6 Ways to Keep Employees Engaged and Connected During COVID-19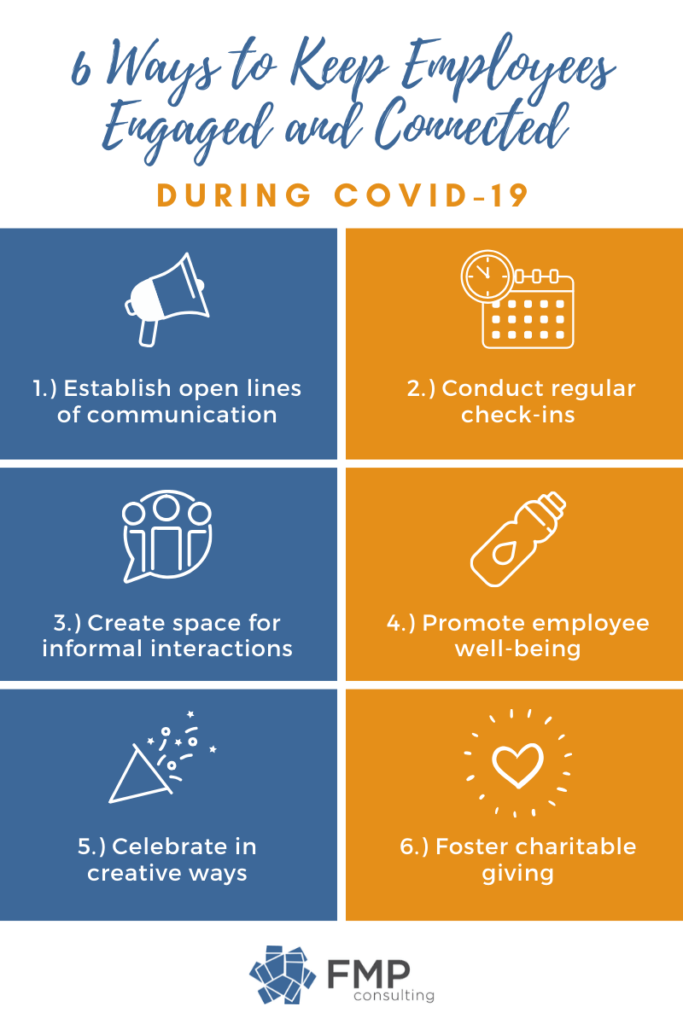 Every month at FMP, we share our thoughts on the latest workplace trends and explore the effects they have on employees. This month we're shining a spotlight on employee engagement. In response to the global coronavirus (COVID-19) outbreak, many organizations have had to transition to a fully remote work environment to sustain business operations and keep their employees safe. During this time of uncertainty, social distance, and what Time Magazine calls "The World's Greatest Work-From-Home Experiment", organizations are searching for ways to keep their employees engaged and connected.
Here at FMP, our employees work from home all the time – it's a practice that's ingrained in our culture. Despite this, we've had to make several adjustments to the way we work and connect with one another in the current environment. Some organizations are adapting to remote work for the first time, and their employees may be navigating the very real challenges that come with working from home such as limited access to technology, fewer opportunities for face-to-face interactions, feelings of isolation, and increased distractions at home. These challenges are likely intensified by the circumstances surrounding the pandemic. For these reasons, employee engagement is more important now than ever before. Here's a list of things organizations can do, and some things we've done, to help keep employees engaged and connected during COVID-19.
1. Establish Open Lines of Communication
Given how rapidly COVID-19 is evolving, it's critical that organizations monitor the situation closely and provide accurate and timely updates to employees. Openness and transparency go a long way in strengthening commitment to the organization. Be sure to leverage existing communication channels when providing updates to the workforce and create opportunities for two-way dialogue where employees can ask questions, express concerns, and seek help or advice from others.
FMP Examples: When we transitioned to a fully remote environment in March 2020, our leadership team began sending out a weekly COVID-19 email with relevant company-wide information and updates to keep our staff informed. In addition, while weekly in-person Executive Office Hours are an FMP tradition, FMPers now have the opportunity to catch up with our leadership team, share information, and ask questions via video conference during set weekly hours.
2. Conduct Regular Check-Ins
In times of crisis, priorities can shift quickly. Regular check-in meetings provide an opportunity for everyone to get on the same page, brainstorm ideas, deconflict competing priorities, and establish action plans. Where possible, encourage the use of video conferencing so employees can engage in virtual face-to-face interactions.
FMP Examples: Our Management Team meets weekly to track the impacts of the pandemic on our projects, workload, business development efforts, and more. Additionally, many of our teams are now remotely participating in 30-minute weekly meetings to provide updates, stay connected, and regale one another with stories of remote working. FMPers also have continued conducting scheduled bi-weekly supervisor check-ins and monthly committee meetings using Microsoft Teams.
3. Create Space for Informal Interactions
Under normal circumstances, employees often engage in conversations around the office about non-work topics (e.g., sports, tv shows, pets). Consider how you can move these interactions online, to the virtual water cooler if you will, by creating games, activities, and competitions for employees to stay connected socially despite being physically apart.
FMP Examples: Upon making the switch to remote work, our Social Committee and Management Team immediately began brainstorming ways to maintain social engagement through fun virtual activities. Soon after, our Quaran-TEAM Fun Microsoft Teams channel was born. This channel is a hub for optional activities and contests, including:
Quarantine Bingo – A new take on a classic game in which FMPers check off activities they've completed in quarantine, with items including personal wellness activities, hobbies, and fun work-from-home moments (e.g., pet video conference appearances).
Recipe Sharing – An opportunity for FMPers to share their favorite recipes and connect with colleagues in the kitchen, providing continued inspiration as everyone exhausts their go-to meals.
Friday Spirit Days: An opportunity to ditch the sweats and dress up based on a weekly theme and stay connected through photos.
Guess that Baby: A weekly contest to identify colleagues by their baby photos and compete for weekly points and a grand prize.
Workspace Photo Competition: An opportunity to submit fun photos related to social distancing (e.g., pictures of your home office, new "co-workers", comfiest work outfits).
4. Promote Employee Well-Being
It's difficult for employees to be engaged when they feel stressed and anxious about their personal and family well-being. At times like these, the best an organization can do is be understanding, empathic, and offer support. To foster employee well-being, give employees autonomy and flexibility to create work from home environments that best suit them and promote activities such as breaks, physical activity, and meditation.
FMP Examples: In light of the current situation, our leadership team reminded employees of flexible work arrangements and leave programs available to them if they are sick, caring for sick family members, or adjusting to new child-care arrangements. Additionally, as part of our Quaran-TEAM Fun Channel, our Wellness Committee maintains the Fitness Fun Channel to keep staff apprised of great ways to keep moving, provide a forum for sharing fitness and wellness advice, and stay motivated together. Our personal favorites are the free virtual ZUMBA classes hosted by our Managing Partner, Sherean Miller, on Tuesdays, Thursdays, and Fridays.
5. Celebrate in Creative Ways
Whether it's project milestones, birthdays, or work anniversaries, make time to celebrate the accomplishments and major life events of your employees. Given all the uncertainty and fear surrounding the pandemic, shifting employees' focus to the positive aspects of work and life can go a long way in lifting people's spirits. Reward and recognition programs, whether formal or informal, can also boost employee engagement.
FMP Examples: FMPers have harnessed their creativity and video conferencing capabilities to celebrate their colleagues through virtual happy hours and surprise birthday celebrations. For example, in honor of a colleague's recent birthday, FMPer Kristin Price coordinated a virtual surprise party during the first 10 minutes of an internal project meeting. In lieu of a traditional birthday cake, attendees were asked to bring their own interpretation of a 'cupcake' using items they had at home. Each attendee presented the guest of honor with their 'cupcake' and capped off the celebration with a virtual rendition of Happy Birthday. Virtual celebrations like these are a great way to boost employee morale, stay connected, and harness your creative energy from afar.
6. Foster Charitable Giving
Charity is another great way to increase positivity among employees and connect them to a shared goal. Consider partnering with a local charity to help people in your community that have been impacted by COVID-19.
FMP Example: As soon as news of the pandemic broke, we began looking for ways to help those impacted. On April 1, our Charity Committee launched a donation drive designed to do just that, while following all of the latest stay-at-home guidance. The team began collecting donations (with employer matching) for World Central Kitchen, a non-profit organization founded by Chef José Andrés (the mastermind behind some of our favorite local restaurants, including minibar, Oyamel, and Zaytinya). World Central Kitchen seeks to create smart solutions to hunger and poverty, and to respond quickly to feed the hungry in times of disaster.
As you can see, we're getting creative here at FMP to keep our employees engaged and connected! Tell us what your organization is doing to promote employee engagement during COVID-19.
Sources:
https://time.com/5776660/coronavirus-work-from-home/?utm_source=link_wwwv9&utm_campaign=item_288956&utm_medium=copy