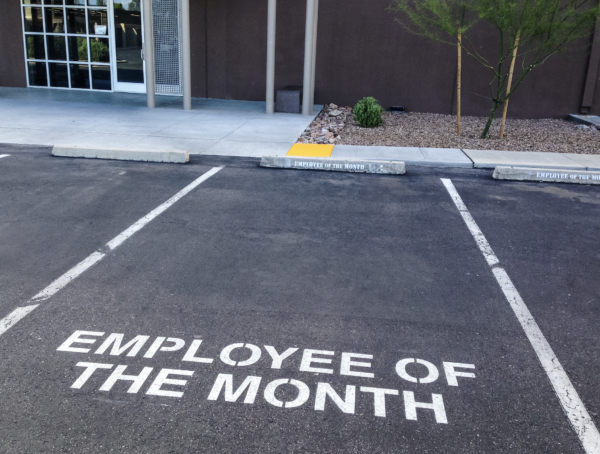 So far this month, we've highlighted some outstanding FMP employees (here and here!) through one of our preferred methods of recognition, Employee Spotlights. Having provided those timely examples, let's get down to the basics—what is employee recognition? Why should organizations do it?
When the average person thinks of employee recognition, they may picture a plaque titled "Employee of the Month" or a paper certificate with the words "Congratulations on Your One Year Anniversary" typed in bold font. In reality, employee recognition is much more than that.
Employee recognition, at its core, is acknowledging, appreciating, celebrating, and rewarding the people that make an organization successful. It is giving credit where credit is due, whether it be through heart-felt thank you, a promotion to the next level, or an annual performance bonus. These typical examples usually correspond to recognizing employees for reaching or exceeding their pre-established performance goals. However, recognition does not always have to be based on the employee's performance or the company's profit margins.
Recognizing an employee's personal accomplishments, milestones, talents, or hobbies is another realm of employee recognition. Reaching a fitness goal, adding a member to their family, playing in a band, or volunteering are all things to be celebrated, whether it be through throwing a baby shower during lunch or encouraging co-workers to attend a musical performance. Honoring an employee for who they are as a human being shows that the organization values them for not only their work outcomes. For some, this form of recognition outweighs the more traditional monetary-based variety.
While employee recognition can range from a quick thank you note to an all-expenses paid vacation, the reasons organizations should acknowledge their employees are just as plentiful. Recognizing employees not only improves morale and job satisfaction, but can increase productivity and work quality. By creating an environment that acknowledges and appreciates personal and professional achievements, employees tend to feel emotionally connected to the organization and, in turn, stay with the organization.
Though it is clear that employee recognition is an important characteristic of a successful organization, how organizations implement it is more blurred. Tailoring the type, frequency, and reasons for recognition to the culture of the workforce and the purpose of the act of recognition is vital. While options for implementing meaningful employee recognition practices are practically unlimited, there is more clarity around what NOT to do in regards to recognition. While recognition should not be uncommon in the workplace, it should also not be sporadic, inconsistent, or inappropriate either in the scale of the recognition relative to the action being awarded or in ways that might make the employee uncomfortable. Lastly, how an organization recognizes its employees should align to the company values. Genuineness is a key component of employee recognition and, some may argue, its intended outcomes cannot be optimized without it.
If learning more about the justification for and types of recognition programs is of interest, stay tuned for our next few blogs on different ideas for recognition from both the private and federal sectors, as well as more interesting research on the impact of recognition on employee engagement and happiness!