Employee Recognition – Spotlight on Angelica Garza
September 6, 2018 in Recognition
By Jessica Milloy, Angelica Garza
This month we're talking about employee recognition, including Employee Spotlights. This spotlights are one of our favorite ways of recognizing the unique, talented, and dedicated people that make FMP Consulting a great organization and great place to work!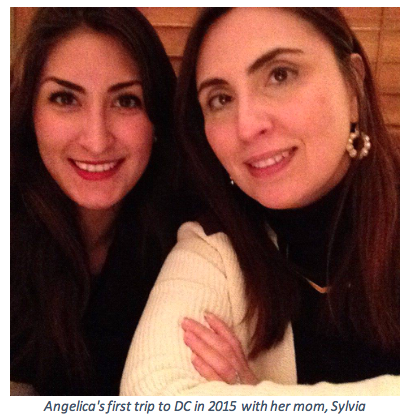 This week we wanted to share another Employee Spotlight, highlighting Angelica Garza. Angelica was born and raised in Austin, Texas, but decided it was time to leave the "live music capital of the world" to pursue her Masters degree and a new career. In early 2015, she and her mom packed their bags to make Angelica's first trip to the east coast. While the bitter cold was a shock, the fresh seafood and culture of the DMV area was enough to convince her to accept her offer at George Mason University (GMU)! Once situated at GMU, Angelica started at FMP as an intern, bringing an interesting perspective on the process of transitioning into a career as a consultant
Angelica first joined FMP as an intern while completing her Masters in Industrial Organizational (I/O) Psychology at George Mason University and we were curious about what experiences during her internship sold her on becoming a full-time consultant after graduation…
The common theme present for my current full-time position and former internship position is customer service – I really do enjoy serving others and making people happy. As a consultant, once you strip away all of the technical specifications of the job, serving people is exactly what your job is. In a way, that led me to choose my field in I/O psychology and, ultimately, led me to FMP as an intern. My first project as an intern was working as a selection consultant for the Centers for Disease Control and Prevention (CDC). I conducted focus groups with epidemiologists, industrial hygienists, and microbiologists – all occupations that are really interesting! I thought it was really cool to get to explore and learn about these industries from the people actually doing those jobs. I end up doing a lot of selection work as a consultant, so that entails conducting job analyses, competency modeling, and really getting to know what an individual does in a specific occupation. Now, I work with the Natural Resources Conservation Service (NRCS) to conduct focus groups with soil scientists, hydrologists, and cartographic technicians, just to name a few. I would never have the opportunity to learn about these people and their occupations if I wasn't a Human Capital (HC) consultant. So, combining the desire for customer service and the opportunity to learn about interesting fields I wouldn't otherwise have access to has really solidified my desire to be a consultant.
So, what's life like as a consultant?
I've enjoyed the majority of the projects I've gotten to work on because I've gotten to play a range of roles on each of them. As an intern, I was focused on project support – I was the team member that helped wherever help was needed. As a result, I was changing directions a lot, which was great at the time because it gave me a lot of exposure to a variety of clients, projects, and competency areas, and it kept me engaged and fulfilled my curiosity around different types of work to learn more about what I do and don't enjoy. Now, as I'm further in my career and tenure with FMP, I've transitioned into leadership roles where I'm managing projects and leading a small team, which I've come to realize that I love doing! I really enjoy communicating with my clients and being their point-person for questions and updates. I'm very organized so project plans, financial tracking tools, and projections are my jam! The unique perspective that you get from managing a project (relative to what you know and see when you're supporting one part of a project) is also insightful and helps me to better support and develop other team members. I've really enjoyed this transition into a lead role; going from constant variety to different leadership opportunities has been really enjoyable.
Coming full circle, Angelica now manages FMP's Internship Program. So, what types of experiences is she trying to create for our interns?
I had a fantastic experience as an FMP intern, so in complete transparency, I'm not trying to reinvent the wheel. I think FMP has done a great job refining the Intern Program over the past several years, and the evidence speaks for itself. Each year, we continue to attract and select very talented interns, and we have a great track record for retaining those interns and transitioning them into full-time consultants. The feedback we receive from our interns at the end of each program is consistently and overwhelmingly positive. If I'm able to maintain that reputation and continue to provide our interns with a meaningful experience that can help them develop skills that they'll use to move forward in their career, with or without FMP, I will consider that a great success.
And what does she want to tackle next?
I think it would an amazing opportunity to get to network and build work internationally. I've traveled to a few countries, mostly in Central America, and it's always been a really fun and exciting experience! But I always get a little bummed when it's time to go home and get back to day-to-day work, and it just makes me wonder why my love for traveling and meeting people has to be separate from work. Other larger firms have clients that are across borders and I think it would be great to get to speak the language of HC in other countries. It might also be exciting for FMP to tap into new types of consulting work (and to have an island office, of course)!