Employee Recognition – Spotlight on Montriece Crawford
September 27, 2018 in Recognition
By Jessica Milloy, Montriece Crawford
This month we're focusing on Recognition, always important for an individual and organization. As part of this, we wanted to spotlight some of our different FMPers. An Employee Spotlight is one of our favorite ways of recognizing the unique, talented, and dedicated people that make FMP Consulting a great organization and great place to work.
Montriece joined FMP just over a year ago and has been working across a couple of different client projects and onsite for a significant portion of her time with one client. As a newer consultant, we were interested in hearing about her perspectives and experiences so far, as well as highlight her willingness to learn, curiosity, and the enthusiasm that she brings to FMP!
Like many FMPers, Montriece's path to consulting wasn't exactly a straight line. We were curious to hear where her path started and learn more about the experiences that shaped her interest in consulting.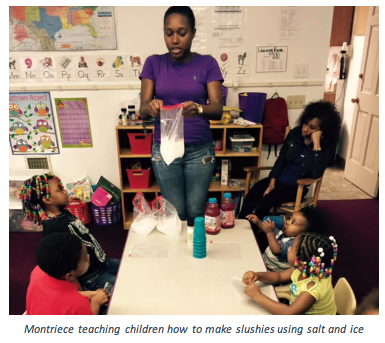 Growing up, I always wanted to be a doctor, actually. I started out wanting to be a pediatrician because I love children, but as I got older, I considered being a pediatric surgeon or anesthesiologist as I compared the cost of medical school to future potential earnings. Given the high costs of medical school, I altered my path and along the way. I worked a lot of random jobs, including as a lifeguard, a shift manager at a fast food restaurant, teaching science-based after school programs to children, and as a trainer at a call center. All of those roles let me interact with a lot of people and I realized I was good at interpersonal interactions, good with processes, and overseeing others, especially with the training classes. From there, learned about FMP and decided to apply. I had never done consulting, but I felt like I was going to be constantly learning, working with new people and learning how they work, managing myself, and managing my workload. My first interaction with FMP was with Carolyn and I really liked her, she made me feel comfortable and we had a great conversation. When I realized that she was one of the owners of the company, it made me feel good that she saw something in me. It was a very welcoming atmosphere and it was cool to know that FMP is woman-owned.
After a year at FMP, what do you think so far?
I've enjoyed learning new things. Coming from a totally different world and knowing nothing about consulting, I love that we get to do a lot of different things and there is always an opportunity to learn and grow in a lot of different areas. I don't think you always get those opportunities in other companies. Here, you get to explore other areas, whether that's a new client or project, proposals, building a new skill, or learning about project management and financials. Everyone at FMP is more than willing to help you learn and grow in the areas that are of interest to you.
You've had the opportunity to work onsite with one client for a good portion of your time this year. What do you most enjoy about that experience?
I enjoy really getting to know the client and being onsite has allowed me to get to know them really well. Now I'm in a position to understand and anticipate what they might need and how they may respond to different ideas. This is really helpful when I'm communicating with other FMPers and they are developing things for the client- I have a much better understanding of how the client is going to respond and how they work. Learning about and understanding our clients really helps our team understand how to better position our support. It also sometimes feels like you have two separate jobs- you learn the client and sit with them, but you also have FMP and you learn that culture and those coworkers. I think it's a cool experience to have both opportunities.
So, what's next for Montriece? We wanted to know what she's focusing on next, both personally and professionally…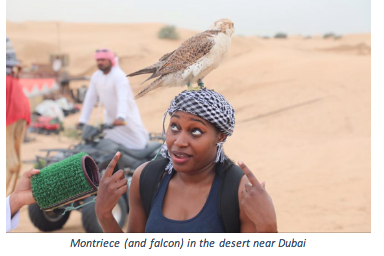 Thinking about my career, I would really like to learn more technical skills, like becoming an expert in Excel, which has been much more useful since coming here. I'd also love to learn about coding, just because it's a great skill to have and it can make things so much more efficient. On a personal level, I would really like to travel to every continent- this is my life goal- and to learn something about the people. I have specific countries I'd like to visit on each continent and I want to learn something tangible from each place and bring those experiences back with me. I believe that travel helps to change your perspective on the world and your life. I've so far been to Greece, Costa Rica, Panama, Dom Republic, Mexico, Dubai, so I have a good start. Next, I'd really like to go to Thailand and the continent of Africa, but I have to figure out exactly where. I definitely want to visit Nigeria or South Africa, but from there, I'd have to figure out the itinerary.