Find the Program Management Tool for You!
Managing projects can be tough, and doing so in a highly collaborative, virtual environment can be even tougher. As a project manager, you need to have insight into how your team is doing and how tasks are going. Getting hold of that information in a virtual environment is not easy. As some team members return to your company's office, others settle into permanent remote work arrangements, and even more carve out a mix of both, staying on top of deliverables and status updates from your team will start to get more complex (i.e., video call, in-person pop-in, email exchange). So, as a project manager, how can you efficiently and effectively:
ensure all team members and stakeholders have access to information and materials they need?
promote collaboration with your team members?
instantly learn when one task, step, phase, or action has completed and the next should begin, and letting those team members impacted know?
immediately recognize when a task has fallen behind schedule?
recognize when critical changes happen in a project?
keep stakeholders and clients informed of status updates and progress, and
track real-time metrics, status, and other project-wide data?
There are a number of excellent tools and software programs on the market that can help with project management, virtual or not. Project managers at FMP leverage a few different applications, depending on their preferences, clients' preferences, and/or needs, and they all work very well. One project management tool that I find particularly useful is Smartsheet, an online work management and collaboration tool that can be used to manage projects, tasks, and events; collaborate and interact with team members and clients; and automate and improve processes. Personally, I have used Smartsheet to develop and administer large-scale help desk ticketing systems and operations, create intake forms and surveys, automate manual business processes for clients, manage communication plans and strategies, create real-time dashboards of metrics and data for executives and senior leaders, and plan and manage events and activities.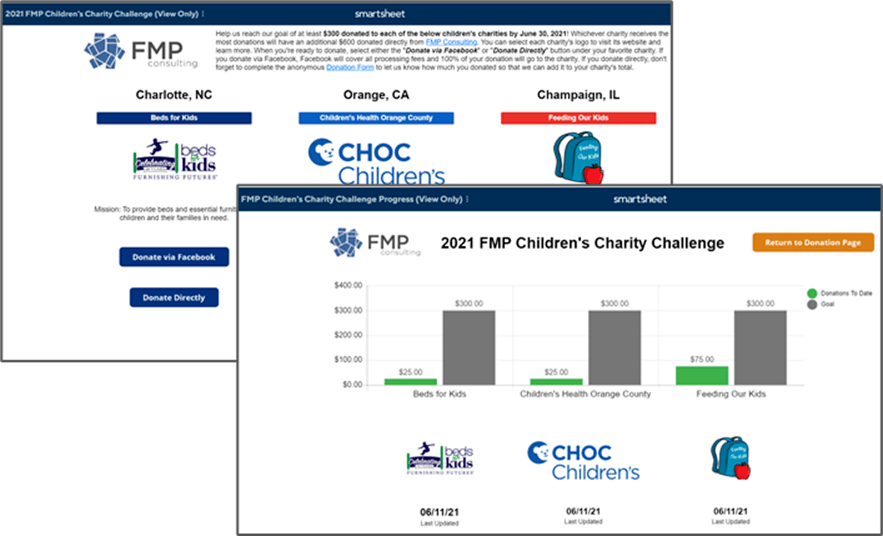 I also love seeing how my FMP colleagues use and apply Smartsheet in ways I haven't thought of or haven't done before. For example, one of FMP's Managing Consultants, Amanda Palla, recently organized and is in the process of executing the entire 2021 FMP Children's Charity Challenge through Smartsheet. She created and published an awesome, customized dashboard that's visible to anyone on the Internet, even without a login. The dashboard shares information about the event, links directly to various external donation sources as well as to a Smartsheet donation form that Amanda created, and charts real-time metrics against the event goals! When I saw what she put together, all I could think was what an effective and creative application of Smartsheet
In case you're interested, here are some of the different ways you can use Smartsheet to support your project management needs:
Create and view a project plan based on your preferences and tailor it to meet your needs. Organize projects and tasks into a Gantt chart or task list with milestones, predecessors, timelines, and any information fields that you want or need to capture (e.g., task owner, notes/comments, status, etc.). If "spreadsheet-looking things" intimidate you, view your tasks on a calendar or on individual 'cards' instead, and use the conditional formatting, sorting, grouping, and filtering options to create a tailored project plan for each application.
Create forms and surveys that, for each response submitted, triggers a variety of automated actions. For example, Amanda set up an automated workflow to send her an email notification each time a 2021 FMP Children's Charity Challenge Donation Form was submitted. A few other examples of other triggers you can set up are to initiate an approval workflow, assign someone to a task or action, or calculate data and collect metrics.
Create real-time, customized, and auto-generated reports. Pull in data fields from other Smartsheet items and sort, filter, and group them however you want. I use reports to automatically generate leadership- and executive-level project summary reports of only key pieces of high-level information from a detailed project plan. This has saved me a ton of time and I have been able to collect and share the exact information that my client needs in a matter of minutes!
Generate visually appealing and publishable dashboards. Dashboards of any kind are incredibly useful for displaying metrics. Developing a dashboard in Smartsheet is really easy! You can create a widget for just about anything to display on a dashboard. Widgets can be created to display cell values or data from another Smartsheet sheet; chart data from other Smartsheet sheets or reports on customizable line, bar, or pie charts; link to files, URLs, and other Smartsheet items; display a Smartsheet report; add an image, like a company logo; add title and text fields; and embed web content from sources like YouTube, Google, Microsoft, and Tableau.
Streamline work with collaboration. I like how team members, and even clients, can collaborate with each other by adding comments, tagging people (i.e., @someone), uploading attachments, and requesting reviews or updates for specific items. These features cut down on a lot of 'mass' team emails and helps keep tasks on track and on time.
Share Smartsheet content with anyone. While you must have a Smartsheet license to create new sheets, reports, and dashboards, you can share your content and allow it to be edited by anyone—with or without a license. You can publish content, like Amanda did for the 2021 FMP Children's Charity Challenge dashboard and make it visible to anyone on the Internet.
Managing projects in a collaborative, virtual environment does not have to be as hard as you may think. With the right tool(s), it can actually be pretty fun! For me, Smartsheet is my project management tool of choice, but that may not be yours, which is OK! If nothing else, I hope I have provided some insight into how project management tools and software in general can help you manage projects more efficiently and effectively, and that you explore the options out there and find the one that best meets your needs, just like I did!
---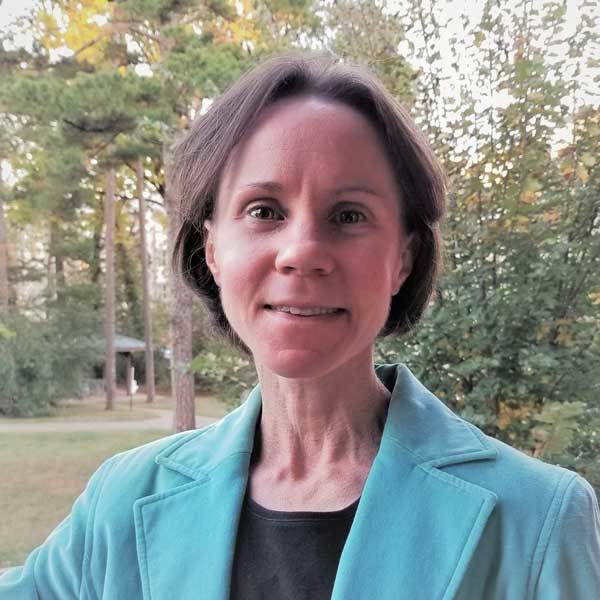 Kara Price is an Engagement Manager at FMP and has been with the company for over 10 years. Kara was born and raised in Pittsburgh, Pennsylvania, and when she isn't cheering on the Pittsburgh Steelers to victory, you will find her running or working out.