Harnessing the Power of Intrapreneurship in the Workplace
You've probably heard of entrepreneurship, but what about intrapreneurship? Buzz surrounding this form of organizational citizenship behavior (OCB) is on the rise, and for good reason! Intrapreneurship has been found to boost both organizational and employee performance. Read more to learn about what intrapreneurship is, how it benefits both the employer and employee(s), and how organizations can support intrapreneurship and harness its power.
Intrapreneurship, also known as Corporate Entrepreneurship (CE), can be roughly defined as entrepreneurial behaviors performed by employees. Though literature and research on intrapreneurship are still in their infancy, definitions detailing the behavior are emerging:
"Intrapreneurship is a process whereby employee(s) recognize and exploit opportunities by being innovative, proactive and by taking risks, in order for the organization to create new products, processes and services, initiate self-renewal or venture new businesses to enhance the competitiveness and performance of the organization." 6
Some behavioral markers of highly intrapreneurial people include innovativeness, proactiveness, opportunity recognition/exploitation, risk-taking, and networking (see the model in Figure 2). These behaviors are also commonly seen in entrepreneurs, so what's the difference? Several key job components differentiate entrepreneurs from intrapreneurs, including the work environment, personal financial risk, job autonomy, and overall goals and motivations, as shown in the table below (see Figure 1). These components may influence an individual's decision to become an employed intrapreneur instead of starting their own venture.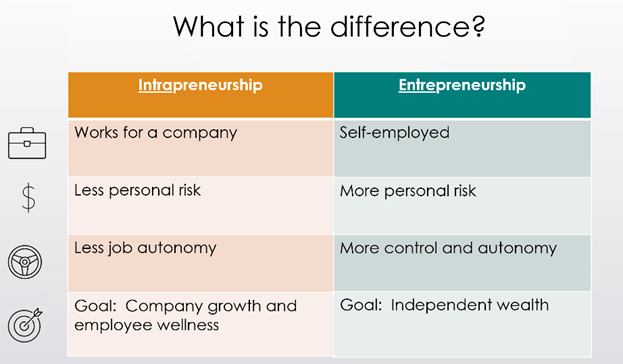 Though entrepreneurship has a larger following and has become a pillar of American hustle culture and entertainment (Shark Tank, anyone?), intrapreneurship has yielded some revolutionary products and solutions, including the creation of the Post-It Note adhesive by 3M and the Sony PlayStation. These products are here thanks to the help of intrapreneurial employees and supportive managers who seized an opportunity to create something new.
The power of intrapreneurship is best displayed in its impact on individual and organizational performance. Organizations with intrapreneurial employees tend to have a stronger competitive edge, higher productivity, sales growth, market share, ROI, etc.,7 more organizational growth,2 and higher innovation output.3 Benefits for employees who engage in intrapreneurship include higher levels of job satisfaction, better customer service,5 stronger job performance,4 and increased commitment to their organizations.3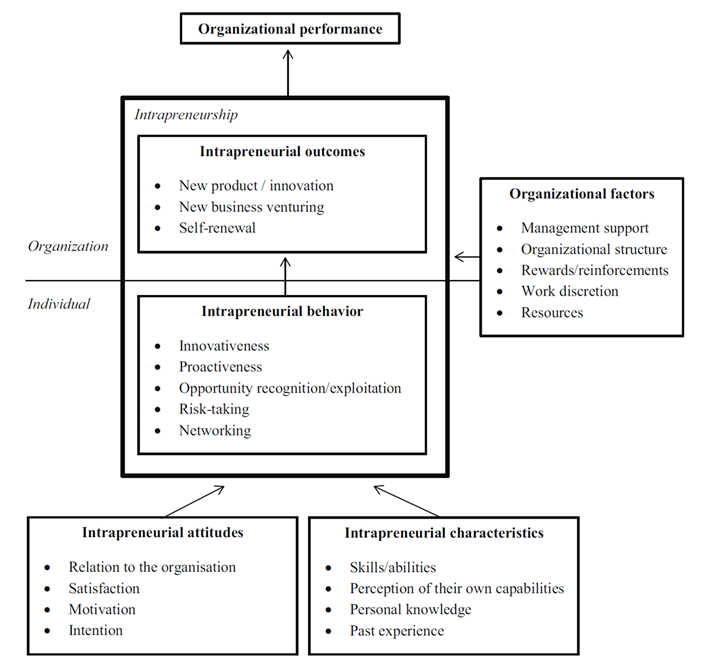 Wondering how you or your organization can become more intrapreneurial? Here are some employee-, managerial-, and organizational-level suggestions for making it happen.
Employee-Level Suggestions:
Own your skills! Not sure what your strengths are? Take a skills inventory test or reflect on your performance and experiences.
Brainstorm innovative solutions to the issues facing your organization or its customers.
Discuss your ideas and existing resources with your manager.
Be open to networking and taking risks.
Managerial-Level Suggestions:
Recognize and promote employees' knowledge, skills, abilities, and other characteristics (KSAOs).
Training and Onboarding – Be sure to demonstrate the value your organization places on innovation by communicating that employee suggestions and ideas are appreciated and failure for the sake of innovation is okay.
Personnel Selection – Select candidates who regard innovation and possess values that complement those of the company.
Take time to foster employee engagement, development, satisfaction, and organizational commitment.
Organization-Level Suggestions:
Identify barriers to intrapreneurship in the company's policies, management, structure, rewards, attitudes, and resources.
Allocate sufficient time, personnel support, and resources for innovation.
Encourage management to thoughtfully consider and implement employees' ideas, feedback, and suggestions and be open to new approaches.
Educate organizational leaders about the benefits of intrapreneurship.
Intrapreneurship is achievable for organizations with a structure that supports, rather than inhibits, innovation in their employees. While some individuals may be more inclined to be intrapreneurial, managerial and executive leadership support can go a long way in providing resources and creating a safe space for employees to share and implement new ideas. The flexible organizational structure and supportive culture at FMP Consulting is an excellent example of this.
FMP describes itself as a leading-edge professional services firm with an entrepreneurial spirit. Our innovative nature and can-do essence help us maintain and sharpen that edge both when working with clients and enhancing our shared experience internally. FMP's values, which include creativity, accountability, and authenticity, fit neatly with the concept of intrapreneurship, and such employee exhibitions of innovation and taking initiative are encouraged, celebrated, and reinforced. FMP actively promotes inventive thinking, celebrating and rewarding employee innovation and communicating opportunities and resources often.
Thanks to our staff of savvy self-starters, leadership support, and a culture of innovation, FMP's day-to-day operations are enriched with examples of intrapreneurship. FMPers have founded a number of committees, standing learning and social opportunities, and platforms for amplifying the employee voice. In the coming months, we'll be sharing instances of intrapreneurship at FMP and the effects they've had on the intrapreneur, their fellow colleagues, and our organization. Check out some examples below for a preview!
Small Nuggets of Knowledge (SNacK)
Kathleen Bellis
Kathleen Bellis instituted Small Nuggets of Knowledge (SNacK), a 30-minute, biweekly learning series, in June 2019. SNacK provides employees with the opportunity to showcase their knowledge, share tools and resources with their colleagues, and hone their presentation skills in a low-pressure environment.
The FMP POV Podcast
Lisa Prather
Lisa Prather founded FMP's podcast series, The FMP POV, in March of 2022, merging her passion for communication with FMP's commitment to accessible outreach. Through the FMP POV Podcast, Lisa and FMP aim to help our audience: 1) Get to know our organization and employees, 2) Reflect on current topics within and adjacent to strategic human capital, and
3) Engage in thoughtful conversations around innovating our field and the workplace.
Blog Writing
FMP Staff
FMP Staff began writing and publishing blogs in 2016. Since then, FMPers have produced blogs on a variety of topics that interest them, including Employee Engagement & Resiliency, Culture & Workforce Wellness, Leadership and Influence, and Industry Insights. The best part? Blog writing is completely optional, and the topics are 100% employee-driven.
Mindfulness Challenge
Summer Sconyers
Summer Sconyers challenged her fellow FMPers to a month of mindful practices including meditation, gratitude, and breathwork. Research on practicing mindfulness has proven several benefits, including, but not limited to stress reduction, increased focus, and stronger immune functioning. The challenge spanned the month of July (2022) and afforded employees the flexibility to participate in the way that best served them.
REDI Committee
Thuy Truong
Thuy Truong launched FMP's Race, Equity, Diversity, and Inclusion (REDI) Committee in March of 2021 with the help of former FMP employee, Autumn Thomas.
The REDI Committee's mission is to engage FMP employees through crucial conversations and programming focused on IDEA (inclusion, diversity, equity, and accessibility) in the workplace. Thuy saw a need for a community in which employees from
underrepresented groups can connect and organize. The REDI Committee was created to address this need, increase feelings of inclusion and equity at FMP, and meet FMP's strategic goals of creating and maintaining an inclusive and positive culture that supports all employees and values diversity in all forms.
Sustainability Committee
Louise Chan
Louise Chan established FMP's Sustainability Committee in November 2020, using her passions and interests to better her organization and engage other employees. The Sustainability Committee's mission is to be thought leaders who model and advocate for sustainable action in our industry and our employees' lives.
References
1de Jong JP. Entrepreneurial behavior by employees in organizations; 2016. Available at SSRN: https://ssrn.com/abstract=2721615 or http://dx.doi.org/10.2139/ssrn.2721615
2Edú Valsania S., Moriano JA., & Molero F. Authentic leadership and intrapreneurial behavior: cross-level analysis of the mediator effect of organizational identification and empowerment. International Entrepreneurship and Management Journal. 2016; 12(1):131-152.
3Farrukh M, Chong WY, Mansori S, & Ramzani SR. Intrapreneurial behaviour: the role of organizational commitment. World Journal of Entrepreneurship, Management and Sustainable Development. 2017.
4Felício JA, Rodrigues R, & Caldeirinha VR. The effect of intrapreneurship on corporate performance. Management Decision. 2012.
5Heinonen J, & Korvela K. (2003, September). How about measuring intrapreneurship. Conference Proceedings of 33rd EISB (Entrepreneurship, Innovation and Small Business). 2003; 1:18.
6Neessen P., Caniëls MC., Vos B., & de Jong JP. The intrapreneurial employee: Toward an integrated model of intrapreneurship and research agenda. International Entrepreneurship and Management Journal. 2019; 15(2):545-571.
7Pearce JW, & Carland JW. Intrapreneurship and innovation in manufacturing firms: An empirical study of performance implications. Academy of Entrepreneurship Journal. 1996; 1:87.
---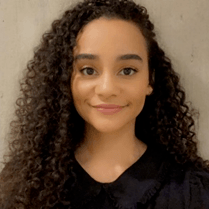 Risa Witherow joined FMP Consulting as a Human Capital Consultant in May 2021. She earned an M.A. in Industrial/Organizational Psychology and a B.S. in Communication Studies and Writing from Middle Tennessee State University. Risa has three years of experience working with clients in the public and private sectors to improve the functioning and effectiveness of their organizations and enrich the experiences had by their employees.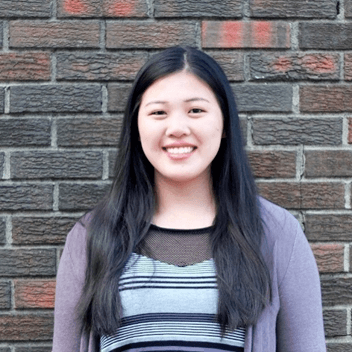 Chi-Leigh Warren joined FMP as an Intern in the summer of 2022. She is currently a student in Kansas State University's I-O Psychology Ph.D. program. Her research focuses on intrapreneurship, and she is interested in investigating how entrepreneurial employee behaviors benefit organizations and if there are specific individual differences that make entrepreneurial individuals, entrepreneurial.