Moving Out of the Classroom: Are You Ready to Convert Your Offerings?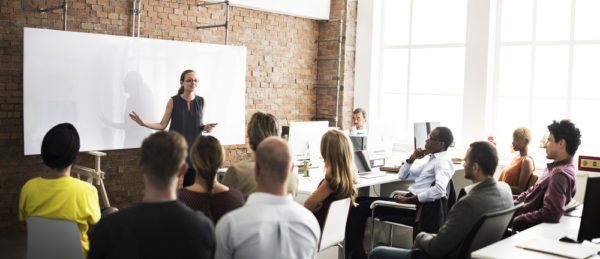 While instructor-led classroom training has remained a popular method to train employees, organizational use of learning technologies is growing quickly. According to Training Magazine's 2016 Training Industry Report, more and more organizations are moving away from relying solely on traditional classroom training and towards methods that leverage e-learning.
But why? If training is already "covered" in your organization, why go through the trouble of changing it? The simple answer is because there are a lot of benefits to be reaped from classroom course conversion, the most important being improved learning (which is the whole point of training, right?).
Why should your organization consider classroom course conversion?
Classroom course conversions can help you move training outside of the classroom, and can revitalize and transform employee learning programs into web-based or blended learning. By leveraging technological advances, e-learning improves the delivery and availability of training. Consider the following benefits:
Increase the reach of your offerings. E-learning brings training to employees anywhere in the world. Are you thinking about your remote workers and geographically dispersed employees? You should be. Conversion also grants learners the flexibility of completing training at a time that best suits their busy work schedules.
Save money. Top priorities for training include increasing the effectiveness of training and reducing costs. Through a reduction in travel, logistics, and facilitation resources, converting classroom courses to e-learning based training can be a long-term budget saver. You can also reinvest those saved dollars into higher quality development and facilitation efforts, improving the overall training program at your organization.
Maximize the value of your money. Unlike classroom trainings, e-learning based trainings can be developed once and then used repeatedly in rapid succession. In addition, classroom training has shown to take half as long to deliver the same material once converted into an e-learning medium. This means your employees can get back to work in half the time as a traditional classroom course.
Get everyone on the same page. With any instructor-led training effort, you take on risks that accompany having multiple trainers and/or several training sessions. The more people or sessions involved, the more difficult it is to ensure that all of your employees are getting the same message each and every time. E-learning modules remove this variability to provide each employee with a consistent, high-quality learning experience.
Make the learner the center of training. E-learning incorporates employee-focused features that grant the employee more control over their own learning, including self-pacing, self-navigation through the learning environment, and opportunities to practice. If you give your employees room to breathe and let them work at their own pace, it is more likely that they will be motivated to learn and retain more information.
How can you determine if your organization would benefit from classroom course conversion?
Each organization's training program has a unique set of learning outcomes, and the best path to achieve those outcomes differs. It is vital that you take the time to consider the impact that converting your organization's traditional courses can have. For instance, while there are several advantages to e-learning programs, this mode of delivery may not be suitable in all cases. Pay attention to the considerations listed below.
Consider the type of content. Certain concepts and material may be more effectively learned when taught in the classroom or through another modality. For instance, simple recall content (e.g., terminology) may be best converted into a job aid, while soft skills topics may be best left as instructor-led trainings due to the criticality of face-to-face activities and real-time conversations. It is critical that you consider your course objectives and content type to determine the most effective delivery method.
Determine the stability of information. Information that changes on a regular basis or is expected to change soon is not a good candidate for course conversion. Conversion is a valuable organizational investment, but its' value can drop if you have to constantly update content. Instead, look for material that is stable.
Lastly, the biggest thing to consider when converting your offerings is that Conversion ≠ Converting. Conversion is less about converting instructor-materials to a web-based software (i.e., uploading a PowerPoint to an LMS). On the contrary, it requires a transformation of materials to contain more interactive and learner-focused elements. As such, just as a classroom training, a full ADDIE/ISD approach is required to be successful.
If you want to talk about your organization's readiness level, or want to brainstorm about course conversion, reach out to our professionals at FMP Consulting. Our teams of experts can assist your organization not only with determining whether your organization can benefit from classroom course conversions, but with how to most effectively do so.
Have you experienced a course conversion technique within your organization? Share your experience with us on Twitter!
---
Angelica is a Human Capital Intern at FMP Consulting and has supported a variety of projects, including job analysis and competency modeling, workforce planning, employee engagement, and communications. She is currently working towards a MA in Industrial-Organizational Psychology at George Mason University.