Staying Organized for Your Mental Health Part II: Digital Clutter
In part one of this series, we discussed how to start tackling our physical clutter to help our mental health. Now, we will focus on the equally important, digital clutter! Here are a few steps to get you started:
Clean out your inbox!
Cleaning off your desk is a great start, but have you ever cleaned out your inbox? There is nothing more satisfying than filing all my emails and seeing an empty inbox, meaning everything has been taken care of. As I receive emails throughout the day, I do one of four things:
mark with a flag if it requires further action,
pin to the top if it is urgent,
file in the appropriate folder, or
delete.
Keeping your inbox tidy will allow you to focus on the emails that do require further action. By the end of each day, I will ideally have no flagged emails, and will have them filed in the appropriate project folder. This allows me to start each day with a fresh inbox and prevents distractions from other past emails.
If you're interested in this approach to organizing your email, you can start the process by creating folders in your Microsoft Outlook. Have a different folder for each project (current or past) and file all emails listed in your Inbox folder. This might take a while, but it's worth keeping up with! Other folders could include Personal, Committees, Kudos, or Internal. Throughout each day, keep only the outstanding items in your inbox and come up with a system that works for you to clear it out on a regular basis. I take a few minutes at the end of each day.
Add everything to your calendar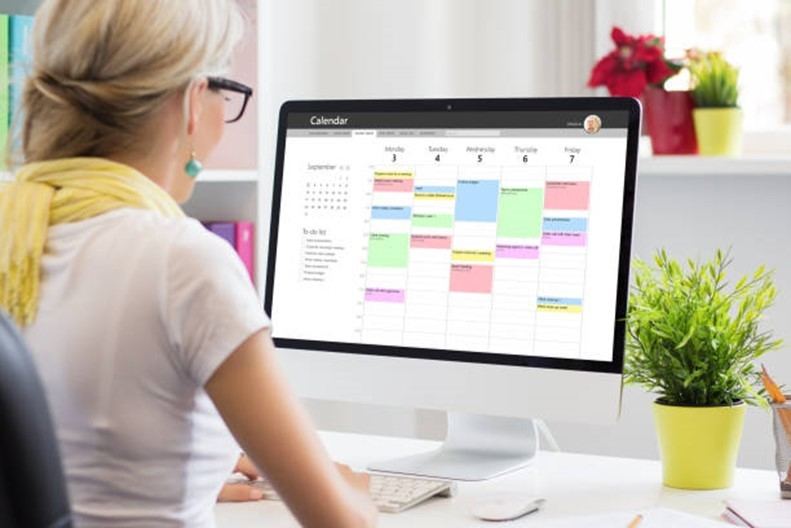 As consultants, we tend to be deliberate with how we keep track of our time, because we report our time spent on each project. One way to help with this is adding everything to your calendar. If you take a 15-minute lunch break, add a block of time for that on your calendar. If you spent 45 minutes on a task independently, mark that too! I like to add blocks of time to my calendar to help me keep track of what I worked on each day, in addition to my meetings, so that I can accurately report my time and have an organized, visual representation of my day.
I also like to color code my calendar, which allows my brain to quickly shift gears to different topics throughout the day. Microsoft Outlook allows you to assign calendar items with custom color-coded categories (instructions here). You can assign different colors and labels and designate one for each project or task, for internal work, and even for independent focus time.
Virtual meeting fatigue has become an issue for some people during the pandemic, and it's not uncommon to feel overwhelmed if you find a lot of items or colors on your calendar. While you are organizing your calendar and finding a system that works for you, be sure to block time for yourself. If you see back-to-back meetings on your calendar, you can add a calendar event just for you before, after, or between meetings to have a quick mental break or time to focus on a task without being interrupted.
Declutter your desktop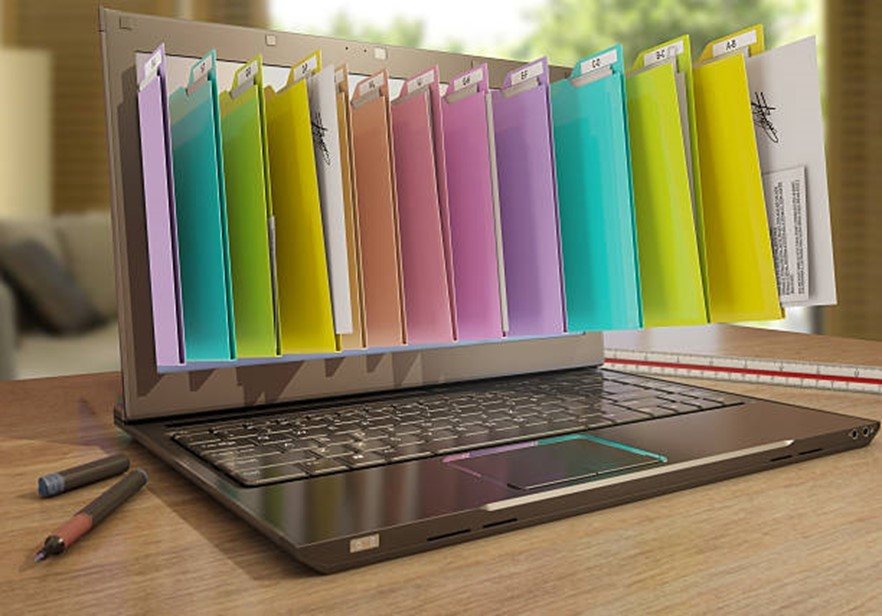 Along with filing your physical folders, another good way to stay organized is to set up a filing system on your desktop for your digital files. Most of us open and save files from emails, download documents, and take screenshots daily. For those of us that have a difficult time keeping all these files organized, instead of adding new files to your Desktop or Downloads folders directly or by default, try organizing your desktop by adding new folders for each project. My desktop currently has folders for projects, workstreams, and internal committees and initiatives (such as business development and resumes). Once you have folders set up, start from the top of your desktop file list, and move all of your documents into your new folders until you have a place for everything! Drop in all those random files you have on your desktop and take this opportunity to move some stuff to the trash bin! Getting rid of the clutter on your computer is just as helpful as getting rid of physical clutter and will make it easier to stay focused on one thing at a time.
Utilize tools
Project management and task tracking tools can take the pain away from staying organized by doing the heavy lifting for you. Avoid the common misconception that you need to be part of a team to benefit from these types of tools. I love writing down all of my tasks, which not only keeps things from falling through the cracks but gives me a feeling of satisfaction when I can check something off my list.
I know that learning new tools can be complicated, so try to approach these as if you were adding items to a simple grocery list and try to have fun with it! If you haven't explored organizational tools yet, consider signing up for free versions to give yourself a trial run. Below are some of my favorites:
Atlassian's Trello lists tasks as cards on a Kanban-style board and allows you to customize just about everything!
Microsoft Planner is already included in some Microsoft Office subscriptions and is a basic and easy way to get started keeping a digital planner as part of your routine.
Microsoft To Do is a great list app and planner and makes it easy and satisfying to check tasks off your list.
It's important that we also acknowledge that it takes a lot of repetition to make something like staying organized part of your routine. Staying organized will take some practice so be sure to reward yourself for your efforts and celebrate each day that you keep your physical and digital workspace tidy. Any goal that helps your mental health is one worth sticking to!
---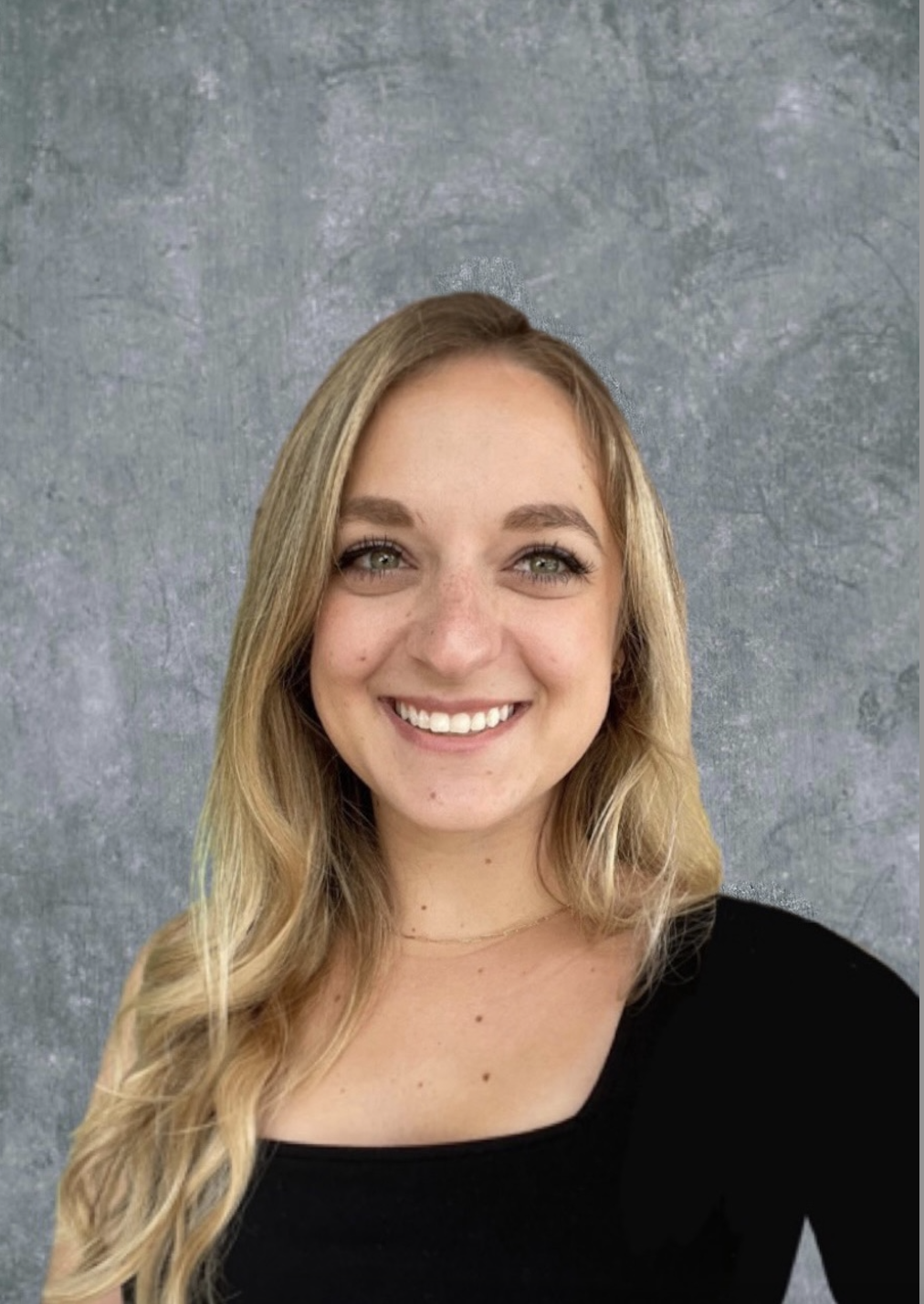 Dominique Rothrock joined FMP Consulting in May 2019 and is a Human Capital Consultant and a Certified Scrum Master (CSM). She attended Florida State University where she received her M.S. in International Affairs. She is part of the FMP Social Committee, Social Media Team and new FMP Community of Practice for Communications and Design. When she isn't providing creative solutions for her current change management or data transformation projects, Dominique enjoys embroidery, painting, all other crafts and DIY activities, and hanging out with her Bichpoo puppy, Luca.