Take it From the Experts – Workforce Planning Best Practices
October 16, 2019 in Workforce Planning
By Jessica Milloy featuring Dan Ohmott, Erin Pitera, Mike Camburn, & Jessica Dzieweczynski
This month we're focusing on the truism 'yesterday is history, but tomorrow (doesn't have to be) a mystery' and since those words of wisdom are borrowed lyrics from Justin Timberlake, we thought it might be a good idea to get some words of wisdom on this topic from our own celebrities workforce planning subject matter experts. To that end, we've asked four of our seasoned workforce planning experts to share why they think workforce planning is so critical and also give some insight into where and how it can be used to best effect for an organization. So, without further ado, here are our expert insights!
Expert- Dan Ohmott, Engagement Manager
Insight- Putting the cart before the horse- reorganizations without workforce planning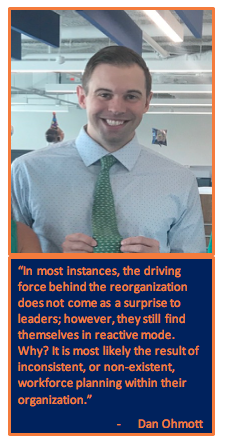 I think that workforce planning should play a central role in any reorganization. Once the new strategic direction has been established, it is imperative to design an organization that will get the right people, in the right place, at the right time to achieve the mission and goals. Through the workforce planning process, leaders can use workforce planning tools and methodologies to make data driven decisions about the new structure and composition of their organization.
Many organizations decide to take on a major structural change (e.g., reorganization, realignment) when it is already too late. The problems have been known for some time, the change in the external environment has already occurred, or the strategic direction of the organization has already shifted. Bottom line, the change has already happened, and the organization is reactively trying to catch up. In most instances, the driving force behind the reorganization does not come as a surprise to leaders; however, they still find themselves in reactive mode. Why? It is most likely the result of inconsistent, or non-existent, workforce planning within their organization.
When undertaking a reorganization, a variety of workforce planning tools can assist leaders in making informed decisions. Developing a workload model or workforce planning tool can help leaders to better understand the quantity of work within their organization. The results of these models can be used to ensure an organization has the appropriate number of staff aligned to the workload of a given team or office. Moreover, workforce planning models can also be forward looking- projecting into the future the needs of the organization. This can help leaders to be more proactive in ensuring that their people and structure are evolving to meet the goals and priorities of the organization.
A second workforce planning tool that can be effectively used to support reorganizations is a Workforce Needs Assessment. The assessment will analyze current and future demands, requirements, or other needs that impact staffing and the workforce (i.e., workforce demand). This information will be compared to current staffing levels, position descriptions, workforce skills, retirement eligibility, and levels of seniority, among other current workforce characteristics, to determine the workforce supply. The resulting identification of gaps can assist leaders and planners in determining the most effective and efficient placement of their workforce.
Expert- Erin Pitera, President and CEO
Insight- The increasing urgency for organizations to do workforce planning right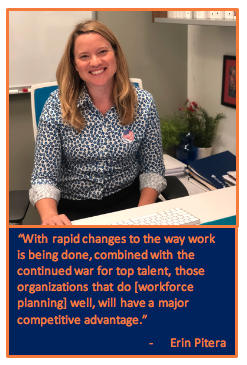 Through my work as a consultant, and then through my own experience as the CEO of FMP, I've always viewed workforce planning as central to mission accomplishment. In fact, I think it's becoming even more critical with rapidly changing technology and automation creating the need for new skills sets, compounded by a tight labor market that is forcing organizations to create cultures that more effectively attract, develop, and retain talent. If these trends persist, the requirement for more effective planning on the type of workforce that's needed is going to be an even higher priority in the future.
All of this represents an exciting challenge for leaders of organizations and why HR should be a strategic partner in any business. Defining and analyzing skills sets, continually assessing current and future skills, and using this data to close workforce gaps through strategic talent management programs, is the only way for an organization to ensure it has an adequate supply of people with the skills, knowledge and experience required to achieve its short- and long-term strategic objectives. And with rapid changes to the way work is being done, combined with the continued war for top talent, those organizations that do it well, will have a major competitive advantage.
Expert- Mike Camburn, Engagement Manager
Insight- Succession planning- targeted workforce planning with long-term benefits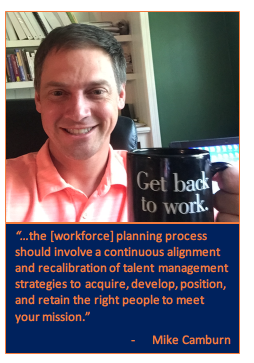 Workforce planning is an on-going process of evaluating how well your workforce is constructed to meet current and future mission needs. The goal of the process should not be to produce a beautifully published plan with an inspirational quote from the head of the agency. Advancements in workforce analytics and position management, along with a climate of recurrent change in appointed positions, ensure that your beautiful document will out of date by the time it reaches the printer. Instead, the planning process should involve a continuous alignment and recalibration of talent management strategies to acquire, develop, position, and retain the right people to meet your mission.
When making strategic decisions about your most valuable resource, your people, it is necessary involve those with the most at stake. The human capital office can facilitate workforce planning, but the process needs to be jointly owned by senior leaders across the agency in order to have a lasting effect. This is especially true with succession planning, which is simply workforce planning targeted at a defined set of key positions. Agencies with effective succession planning programs recognize two sobering truths:
If people are the most valuable asset, then losing those people is the greatest liability
Eventually, everyone will leave
Succession planning is a long-term investment that may feel like investing in a personal retirement plan. Similar to a retirement plan, you need to be disciplined, even when you don't experience near-term benefits. The sooner you begin and the more diligent you are, the more the benefits will compound. Succession planning will enable your agency to not just survive change in a key leadership position, but thrive under the direction of a new generation of leaders.
Expert- Jessica Dzieweczynski, Managing Consultant
Insight- Using workforce planning data to create compelling resource requirements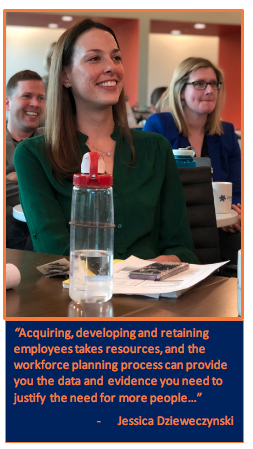 In general, I think that one of the most exciting trends in HR is the increasing reliance on data to inform organizational decisions and programs. A strong workforce planning process does just that. Specifically, a robust workforce planning process will integrate both quantitative data (e.g., number of employees, retention rates, workload driver data) as well as qualitative data (e.g., information from management on future needs of the organization). It is a common saying that people are an organization's most important asset – and of course it makes sense to use a strategic, thoughtful, and data-driven process to plan for your organization's most important asset.
Beyond people being an organization's most important asset, they are often one of the organization's most expensive assets as well. Acquiring, developing and retaining employees takes resources, and the workforce planning process can provide you the data and evidence you need to justify the need for more people (and the resources you'll need to get those people). For example, we have worked with a number of clients to build workload models to quantify workload and link that data to the specific number of people needed to accomplish the work. Leaders can then use the results of these analyses to help justify their requests for more budgetary resources and/or staff. Having the data to support that request makes their case much more compelling.