Tips and Tricks to Improve Teleworking Teams…Just in Time for Tip-off!
March 6, 2019 in Teams
By Ashley Agerter Raitor, Jessica Waymouth
Brackets, bubble teams, and all things basketball. It's that time of the year – bring on March Madness!!! With Selection Sunday right around the corner, we thought it would be fun to explore a quote from the ultimate baller himself, the greatest of all time, the one and only Number 23…Michael Jordan! (Sorry, LeBron fans. Call me if the Lakers even make the playoffs this year). MJ said and did a lot of memorable things over the course of his remarkable career – the double three-peat, putting up 38 against the Jazz while battling the flu, and who could forget when he defeated the evil Swackhammer to save the Looney Tunes from Moron Mountain? (Any other Space Jam fans out there?) Anyway, as someone who followed MJ's career closely, one particular quote that has always stuck with me is, "Talent Wins Games, Teamwork Wins Championships." What I think MJ meant by this is that when it comes to being the best team, it's not just about the superstars. Instead, high functioning teams need to understand role clarity, synergy, and teamwork. Our blogs this month will explore this quote further, examining various aspects of teamwork, team-building, and team performance.
There are a lot of ways to breakdown this famous quote, but we thought we'd start by exploring the concept of virtual teams, since this week happens to be Telework Week in Virginia. A few weeks ago, my colleague, Jessica Waymouth, and I had the pleasure of presenting about virtual teams at the Leadership Center for Excellence's 2019 Leadership Summit. Our session focused on the latest in telework trends, individual- and organizational-level benefits, best practices for implementing telework programs, and strategies for effectively managing virtual teams. There are a number of benefits to teleworking. For the individual, these include things like cost savings (e.g., gas, dry cleaning, potential tax breaks), time savings (the average teleworker saves about 5 hours per week not having to commute to and from the office), increased engagement and satisfaction, and even improved physical health stemming from more exercise, better sleep, and healthier meal choices. But, it's not just teleworkers that benefit from these arrangements. Companies who offer flexible work programs cite significant cost savings, increased productivity/efficiency due to fewer workplace distractions, and the ability to attract the best talent because geography is no longer a barrier.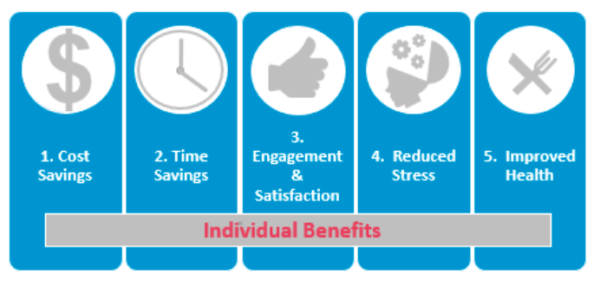 You might be asking yourself why some high-profile companies have started pulling back on telework if there are so many benefits. Part of the reason many telework programs fail is that companies don't recognize that there are significant differences between virtual and face-to-face teams. The opportunities for knowledge exchange are different, as is the type of communication and the content of interactions. This is true for virtual peers tasked with working as a team as well as for the managers who are ultimately accountable for the team's performance. Therefore, a critical aspect of optimizing a virtual team's performance comes down to recognizing these key differences and understanding strategies to manage them. These strategies can be grouped into four overarching areas: 1) Technology; 2) Culture; 3) Processes; and, 4) Communication.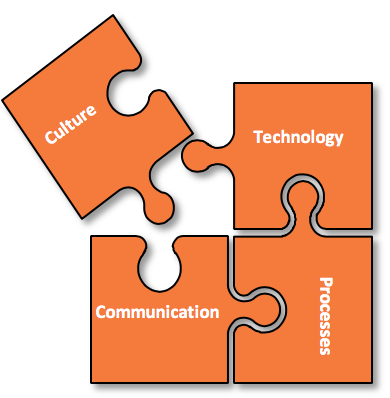 First, it's important to make effective use of available technologies. But, don't let the pendulum swing too far into cyberspace – it's easy to become over-reliant on technology. Instead, you should try to use the least amount of technology necessary to fulfill your needs. And, take time to test the variety of innovative tools that are out there in order to determine which might best support your team's needs (e.g., calendar and event scheduling, cloud storage, collaboration, data visualization, workflow, survey/forms tools, virtual meetings). A few applications that are definitely worth checking out include Asana, Confluence, Knack, Slack, Trello, Tableau, and WebEx.
Next, managers must focus on cultivating a culture that supports telework. This should be focused on trust, appreciation, empathy and rapport. Building a trusting culture is really important. As a manager, building trust is about modeling the behaviors you seek from your team. Trust is built by demonstrating timely appreciation, genuine empathy, and an appropriate level of vulnerability, which can be harder to do and take longer to achieve in a virtual team setting. For example, you can't just pop by Sally's cube to say "job well done" on your way to grab a snack out of the kitchen, so these types of interactions often necessitate a little more thought and intention. That said, they should still be timely and genuine.
It is also critical that organizations develop and implement clear team processes. This includes developing telework arrangements, which establish agreements for all employees who telework and outline conditions of the telework arrangements (e.g., timeframe, specific days requested, job tasks to be performed, and steps for handling documents). Setting clear processes around availability is also critical. Predictable access is better than instant access. Teleworkers should be available in roughly the same way as in-office workers are (e.g., phone, email, chat functions), and flexibility is crucial on both sides.
Finally, some of the most important ways in which virtual teams differ from face-to-face teams involves how, when, and why they communicate with one another. Therefore, managers must effectively support communication within their virtual teams. Questions you should ask yourself include:
What are preferred communication methods across the team? How do we share this information with team members?
What are the ground rules for virtual meetings?
Where do we track individual and group deadlines and interdependencies?
How often do we check in with team members and by what communication method?
What reporting will we use for accountability?
Ultimately, to effectively support communication, managers must help virtual team members clearly define the results that are expected from the communication; be explicit in stating the conditions of satisfaction; ask questions to confirm understanding; and, create opportunities for clarification, adjustment, and reprioritization.
Now that we've oriented you to a few of the key success factors for managing virtual teams, we'll leave you with a few practical strategies you can begin to implement:
Schedule regular team meetings
Schedule informal time among employees
Humanize communication
Make effective use of technologies
Set clear rules and requirements for communications
Clarify rules and responsibilities
Implement effective performance management processes
Provide training to employees and

managers
While we can assure you these tips and tricks will help improve the overall performance of your virtual teams, we're not making any promises they'll help you win your bracket. Good luck this year!
References: