Top Trends from SIOP 2018
Some of our FMP team recently attended the Society for Industrial and Organizational Psychology (SIOP) 2018 National Conference in Chicago and brought back some helpful information to share! These noteworthy take-aways reflect the trends and discussions that will no doubt influence human capital management practices in the coming years.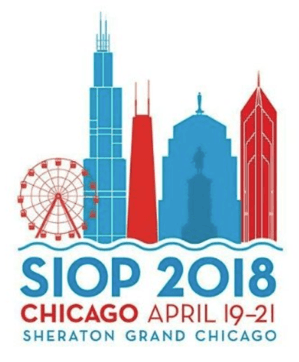 HR Technology is Quickly Evolving. The private sector is taking the lead in implementing a variety of new HR tools and technologies. Some of these innovative products will make an entrance in the federal HR space in the near future. Look out for ChatBots and Virtual Assistants, major advances in game- and simulation-based training and assessment, and anything else cooking in the artificial intelligence kitchen!
Data Analysis through Machine Learning is here. Remember when statistical tests had to be computed by hand? For those of us raised on data analysis and reporting tools, we still get to witness a similarly profound and impactful transition into data analysis through machine learning. Technology similar to what we find in Cortana (or Siri/Google Assistant) is finding efficacy in predicting job performance from job interview audio and resume content. Massive, "unmanageable" data sets are now manageable through algorithm-driven data cleaning and analysis, allowing us to explore new terrain.
Generational differences are overplayed. SO much of today's popular organizational literature focuses on generational differences. But research suggests there are more similarities than differences across generations for most aspects of workplace behavior. For example, longitudinal studies show there are virtually no differences in employee engagement levels for millennials compared to other generations, and research generally finds only small (and inconsistent) differences in workplace values and behaviors across generations.
Organizations can build resilience.

Our blog series last month focused on resilience

, so we were excited to learn what the latest research has to say about building resilience in an organization. Research suggests that one-on-one coaching sessions may be one of the most effective methods for improving personal resilience. Leadership style also influences subordinate/team resilience, with authentic and transformational leaders having a positive impact on others' resilience.
Think twice before getting rid of performance ratings.Over the last few years many organizations have gotten rid of performance ratings (or considered doing so) in order to allow the performance management process to focus more on meaningful feedback discussions. But the research doesn't support this trend. For example, CEB research shows that organizations that removed rating systems actually showed a decrease in conversation quality, time spent on informal conversation, and employee engagement overall.
About the Author: Shrish Willet presented at SIOP 2018 as part of a panel on "Early Career Lessons: Things I Wish I Knew (A Tribute to Chicago Based Movies)". The panel discussion explored the work-life balance challenges that all early career professionals face. Shrish, in particular, focused on navigating the transition from an internal position to an external consultant and provided guidance around the process of moving from a generalist to a specialist consultant. All while referencing great movie moments for the host city, Chicago!