Effective Communication with Remote Teams During COVID-19
This blog post is most likely one of hundreds of pieces of communication that you have consumed this week, along with myriad meetings, emails, phone calls, texts, chat messages, and other forms of communication. In this remote work environment in which we find ourselves, there seems to be an ongoing struggle of trying to stay connected with our teams and being inundated with an ocean of messages arriving through various channels.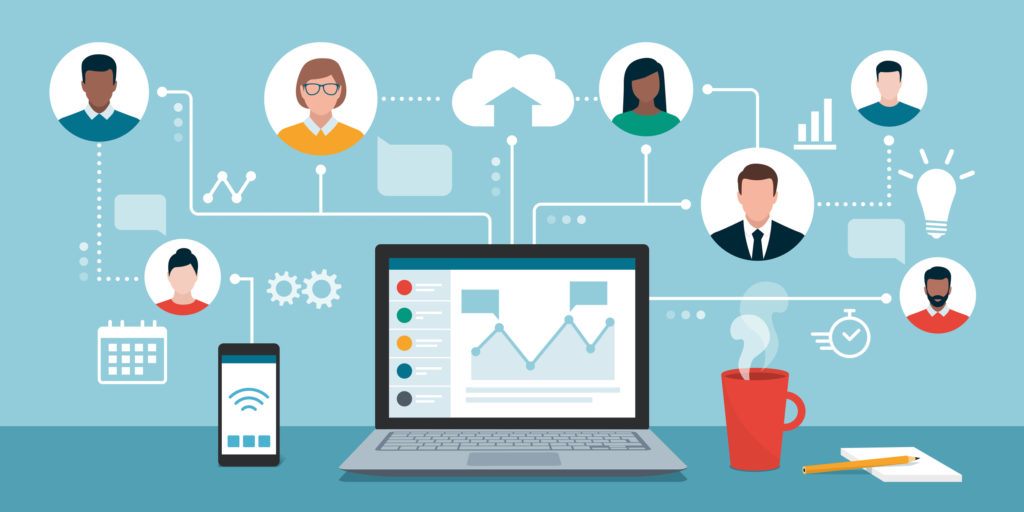 Where we had previously taken a stroll across the office to "pop by" someone's cube and ask a quick question sandwiched by small-talk, we must now develop a discreet communication to send them for this same purpose. But what type of communication? Is the remote equivalent of a "pop by" an email? A chat message? A text? Should I schedule a meeting to discuss so we can fit in some small-talk? But their calendar is booked all day and it will just take a minute…
As you can see, our quick question has now turned into a series of decisions that we must navigate before even reaching out to our colleague. This can create further workload and stress in an already challenging time, so to help mitigate the cognitive weight of communications analysis paralysis, here are some guidelines and tips you can follow:
1. Explicitly discuss communication styles, methods, and expectations with your manager and project teams
This is always a good idea, but establishing communication norms is especially important in a remote environment. Coordinate with your colleagues to answer questions such as: What is your schedule – are there specific times you will be on/offline? In X situation, should I email, text, message, etc.? What is the criteria to elevate something from an email to a meeting?
2. Be wary of contributing to "meeting creep"
If your schedule is anything like mine, you are facing a marked increase of meetings on your calendar. Things that used to fall into the "pop by" category are now taking up 30 minutes on my calendar and now I've only got 2 free hours a week to get all of my work done. It has often been said that most meetings could be replaced by a good email – let's test this theory! Be mindful of scheduling meeting time for short questions, and if you do, try scheduling the meeting for 10-15 minutes instead of 30.
3. Proactively defend against "meeting creep"
Have to send something out by the end of the week but worried that you won't have enough time to work on it? Block some time off on your calendar!
4. Don't be afraid to send a quick message to someone whose calendar is booked
As seen in the above two items, everybody has a lot on their calendars right now! If you have a question that you need an answer for quickly, you might be in a tough spot of wanting to reach out to someone, but knowing that they are in meetings for the next 5 hours. Consider using other communication channels for directing time-sensitive and short messages – Microsoft Teams, Skype, Slack, GChat, whatever your organization uses as a messaging platform. Or, maybe a text message is the preferred method for your team (see tip #1). You may find that even while participating in a meeting many are able to be responsive and type out a quick response. Even if not, this should help tee your question up for response once they are available.
5. Tweak your application settings
Did you know that in Outlook you can edit your calendar settings to allow for others to see the subjects of the meetings on your calendar? This can be helpful for others when scheduling a meeting to know if someone looks booked but might actually be able to move another meeting (maybe they were following tip #3). Did you also know that you can receive an email notification if you miss a message in Teams? We can't always monitor our Teams app and this provides an easy way to identify if we missed a message so that we can follow-up accordingly (see tip #4). These are just a couple of examples of the many ways that you can tweak the settings of your applications to help break down barriers to communication and enable you to collaborate effectively with your teams.
6.
Make time to chat about things other than work
It can be easy to focus on work-related conversations and meetings, but it is also important for us to know each other as people and to be empathetic and supportive of each other in this tumultuous time. Just because we are virtual doesn't mean we can't insert some small talk into our conversations! You might also find it is helpful to schedule a short meeting with someone exclusively to get to know them better or to catch up after having not spoken in a while. Relationships are important, and they take a more concerted effort to build and maintain in a remote environment, so don't feel bad about taking time out of your day to strengthen these bonds.
In summation – it is important to stay connected and communicating while we are physically separated, but we need to be a little bit more thoughtful and strategic in going about it. Coordinate with your teams to establish communication expectations and take advantage of technology to ease the administrative burden. Stay safe and sane out there!