Employee Well-being During COVID-19
In the present pandemic and associated recession, it is easy to put our personal well-being at the bottom of the list. Workers who used dependent care found their daycares, schools, and care centers closed in March 2020. And yet, parents and caretakers still needed to "get" to work, whether that was logging on from their kitchen table or going to their place of employment. Younger workers found themselves quarantined, perhaps with a roommate or two, suddenly needing to set-up a home office.
The relentless news cycle hijacked our attention, and for those with existing mental or emotional health issues, the news cycle simply fueled those anxieties. According to a Gallup poll, Americans' well-being dropped to a 12-year low in May of this year as employees grew overwhelmed and fatigued from the sustained crisis.
In all of this, and the health inequalities and structural racism that COVID-19 laid bare, many leaders realized that they needed to deploy a more empathetic, adaptive, and caring environment for their employees. Suddenly working from home, full-time, employees reported feeling disconnected, unengaged, or even lonely. As employee engagement is critical to motivation, satisfaction, and retention, savvy organizations knew they needed to monitor engagement and well-being and support their employees as best as possible.
During this time, we have found that companies and organizations with a supportive culture are addressing employee wellness and well-being in a whole new way. There are four major areas that companies are supporting employee wellness, all of which go beyond offering the occasional "mindfulness" training. These approaches include the following:
Supporting Employee Resilience – Social distancing can create anxiety and stress, so employers are highlighting resources through their existing employee assistance programs (EAP) or other mental health services and practices. Many organizations are offering recurring mindfulness sessions or the use of sites and apps to encourage employees to take care of their mental health. Practicing mindfulness helps employees be more aware, be intentional in their responses, and practice self-compassion. Even a simple breathing exercise of focusing on an extended exhale – breathing in for a count of 4 and breathing out to a count of 6 – can help control the day's stressors.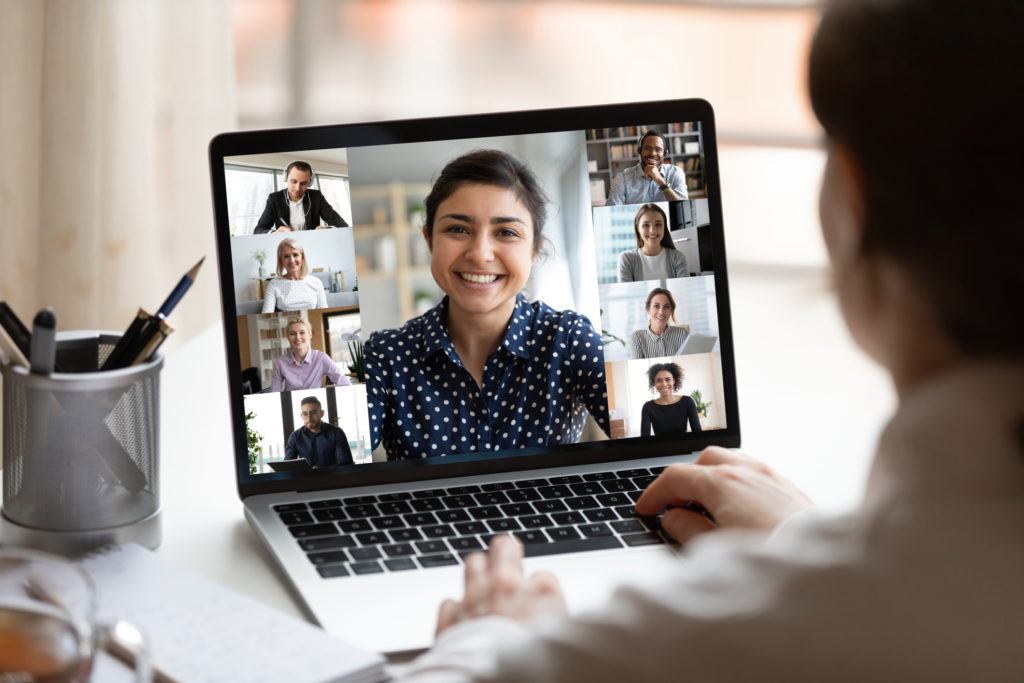 If you're looking to introduce more mindfulness and resilience for your employees or yourself, there are a variety of resources available, including the Search Inside Yourself Leadership Institute (SIYLI), which offers training on adaptive resilience and meditation. Adoptinga meditation micro-practice, such as STOP: Stop, Take a breath, Observe, and Proceed, can help employees develop inner calm and learn to focus on what they can control. This meditative practice can help them offset the daily fatigue that comes with frequent video calls or working with split-attention due to family or roommates being in the same space.
Building Teams of Trust – It is critically important right now to create safe environments where employees feel they can be candid. In many offices, there are difficult conversations taking place around diversity, equity, and inclusion. Building team practices around trust is a powerful way to bring attention, curiosity, and openness to these team interactions. Such practices can help employees stay connected to their team's purpose and values and allow for a diversity of perspectives.
If you're looking to build trust and candor, consider starting your meetings with an opening check-in, allowing for breaks and pauses, rotating the facilitation responsibilities among the team, and weaving in icebreakers and activities to really get to know each other.
Providing Caretaker Support—Some large firms and major corporations are adding family-friendly perks for employees with young children, including childcare subsidies and educational benefits to help working parents. Others are providing expanded care when daycare or adult/elder care arrangements are disrupted. Companies have often provided dependent care subsidies or emergency back-up care, and these expanded areas of support through tutoring and online camps build on those usual dependent-care perks.
Implementing Employee Screening Logs and Apps – In addition to supporting mental health and resilience, many employees are also monitoring the physical health of their employees. To reduce the spread of COVID-19, many employers are requesting or insisting that their employees continue to work from home. For those who cannot work from home, or for leaders developing a return-to-office plan, there are simple forms from SHRM and Daily Monitoring Logs developed at the state-level (like the Virginia Department of Health) and employee health screening apps that allow companies and organizations to easily collect the data on the health of their employees with areas to record temperature and the symptoms that may appear 2-14 days after exposure. For example, the GoCanvas COVID-19 Screening App includes everything companies and organizations need to start screening employees, making the logistics of reopening easier, while ensuring the organization is in compliance and keeping employees and customers safe. Guidance from the Centers for Disease Control and Prevention (CDC) is available for organizations needing to adopt a COVID-19 policy, implement a daily monitoring log for employees, or structure a safe return-to-office plan.
Some other employee benefits being offered by employers include small incentives to cover costs related to working from home, paid time off or paid medical leave for anyone diagnosed with COVID-19, virtual exercise classes, care packages with company swag, and more.
At FMP, our leadership has been helping employees focus on all of the different aspects of well-being during this difficult time including physical, emotional, financial, community, career, and social. Through weekly leadership messages, we are reminding employees of the importance of health and well-being. Through our employee-led committees, we are introducing creative, socially distant activities to support each other. We have held a virtual scavenger hunt, learning events, a game night, happy hours, and are always looking for new interactive ways to come together virtually.
Leaders are realizing it is more important than ever to check-in with those in their organizations, to provide care and support and be genuine in our interactions.