Post-SIOP Reflections from FMP
Last month, the Society for Industrial-Organizational Psychology (SIOP) wrapped up its 2022 Annual Conference, an event that brings a diverse community of I-O psychology practitioners, educators, researchers, and students together for an enriching few days of knowledge sharing, networking, and ideation. Throughout the conference, FMPers connected with each other, facilitated highly attended sessions, presented their dissertation, and so much more! With many FMPers in attendance, both virtually and in-person, we asked for their highlights and key takeaways from some of their favorite sessions and events.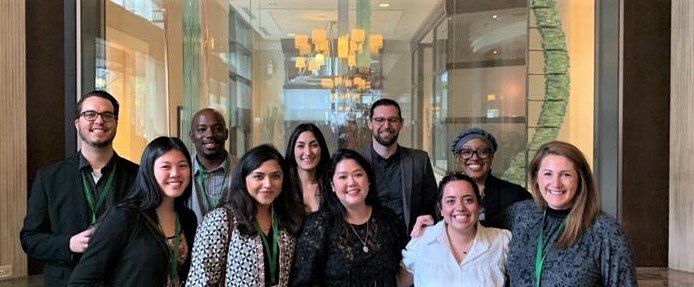 Joo Park
The findings shared in Meisha-ann Martin's presentation, Building Better Workplaces: Novel Approaches for Measuring Inclusion at Work, really stuck with me. Women give and receive more awards, but the average monetary value of those awards were the lowest. Though high recognition for women is a positive outcome, the fact that the average award value is on average 12% higher for men, really made me question whether women are receiving more surface level recognition in other situations as well. Moving forward, I want to be more mindful of whether positive outcomes, such as increased recognition for certain groups, is also resulting in more impactful differences for groups of interest, such as promotions or higher monetary gains.
Natasha Tenreiro
Attending the Women's Inclusion Network (WIN) reception at SIOP was an empowering experience. I had the opportunity to speak with I-O women located across the US and learned about all the ways I-O women are making an impact in the field and at their organizations. Particularly, one woman I spoke with shared stories of her 30+ years in the I-O field and how things have changed since the beginning of her career. The reception really gave me a chance to connect with people I normally would not have had the chance to. It was also great to see all the working mothers at the reception who brought their children to SIOP (and to the reception)! Overall, it was a great experience and I look forward to attending this reception at future SIOPs. All the inspiring women I met reenergized me to make an impact for I-O women to come!
Jamal Cottman
During the session Thinking Virtually: Well-Being for Minorities, a member of the panel (Trenton Jones) stated "I challenge myself to try and understand people's stories." While many might regard this as mere empathy, given the context of the conversation it was much deeper. While there are so many great quotes to take from the SIOP 2022 experience, for myself, this is it.

Moving forward I will challenge myself to understand the stories of those I serve more deeply and more personally. As a practitioner, we can often be very methodical. So, I want to immerse myself more deeply into projects. I believe by fully understanding stories, I can help deliver a more personal, useful, and effective product for FMP clients.
Nastassia Savage
During the Community of Interest around the impact of COVID-19 on I-O, one thing that really resonated with me was the intentional effort of the participants to recognize our own biases and broaden our perspectives. For instance, we all started discussing how the future of I-O might look in terms of a hybrid workforce, which was based upon our own experiences as knowledge workers who primarily work in office-type environments. Recognizing this allowed us to intentionally consider how COVID-19 may have altered work for those in face-to-face dependent positions, such as healthcare, fast food, and construction, and allowed for a richer conversation.

However, the thing that really stuck out to me at this SIOP was the inclusivity for those participating in Ramadan – the meal coordination and availability of a prayer room and mats were fantastic. I also was thrilled to see the American Sign Language (ASL) interpreter and closed captioning during the plenary – I loved the accessibility and inclusivity of it and it's also quite fascinating to watch!
Nate Voss
My favorite talks that I went to during SIOP 2022 were titled (1) Consulting 101: Consult the Consultants, (2) Recent Advances in Insufficient Effort Responding, and (3) The Congressional Workplace. The first talk consisted of a panel of experts providing advice on how early-career consultants can be more effective. I got a lot of great tips from this talk that I hope to use and better myself as a consultant. In the second talk, researchers presented some of the latest findings on careless survey responding, a topic near and dear to me. One finding that really stood out to me was how supervisor ratings of job performance can actually predict careless responding, and vice-versa (e.g., if you respond carelessly to a survey, there is a good chance you also have lower job performance and engage in more counterproductive work behaviors). In the third talk, we had the opportunity to hear from Congressman Derek Kilmer, Chairman of the House Select Committee on the Modernization of Congress, on how Congress is using I-O psychology to help improve government functioning. This talk was a great reminder of the relevance of I-O psychology and how it can be used to benefit society, which has me really excited to become involved in these efforts at some point in the future. Overall, there were many great talks and presentations at SIOP 2022, these are just three that really resonated with me. It was so great to attend SIOP again in person and I am already looking forward to what next year has to offer!  
Louise Chan
I enjoyed the panel discussion, Putting the I back in DEIA: Tools and Techniques for Fostering an Inclusive Workplace, which included our fellow FMP colleagues: Thuy Truong, Joy Oguntimein, Lesley Perkins, and Natasha Tenreiro. One suggestion they shared is to build relationships and have open and meaningful conversations with colleagues before diving into DEIA discussions. They also discussed that Federal agencies are sometimes ahead of the curve in diversity and inclusion initiatives by instituting policies and dedicating resources before those in private sectors would.
Stayed tuned for more post-SIOP blogs over the next couple of weeks, as FMP's conference-goers take deeper dives into some of the topics covered and share more about their experiences at this year's meeting.