Pulse Surveys: A Valuable Source of Workplace Data and Insight
Now more than ever, organizations need to act fast, adapt quickly, and derive data-based insights rapidly to remain competitive. An increasingly popular data-based tool for enabling this sort of rapid adaptation is the pulse survey. Pulse surveys represent an efficient method for gathering employee feedback and/or assessing perceptions1. Compared to "traditional" surveys, pulse surveys are typically shorter, frequently administered, adaptable, and often used longitudinally (e.g., to track data over time).
Pulse surveys can vary in how formal they are and when they are used for action-tracking or action-driving purposes2. Formal surveys are driven from the top-down, have extensive communication efforts, and yield detailed reporting, whereas informal surveys are locally driven, have less broad involvement, and entail less extensive reporting. Surveys intended to drive action are meant to inspire change and inform action planning, whereas surveys that track action simply measure trends and/or keep databases up to date. Depending on where your pulse survey falls on the formal-informal and action driving-action tracking continuums, different considerations may be needed. For example, if a pulse survey is informal and being used to just to track information, it will be important to communicate to the workforce that they should not expect action to be taken. On the other hand, if a survey is more formal and meant to drive action, since analyses/reports will take longer to create, it will be crucial to clearly communicate these expectations to employees.
Pros and Cons of Pulse Surveys
Like any other tool, pulse surveys have advantages and disadvantages that you should keep in mind when deciding if they are the right choice for you. Some pros and cons of pulse surveys, and an explanation on how these compare to more traditional surveys, are provided in the table below.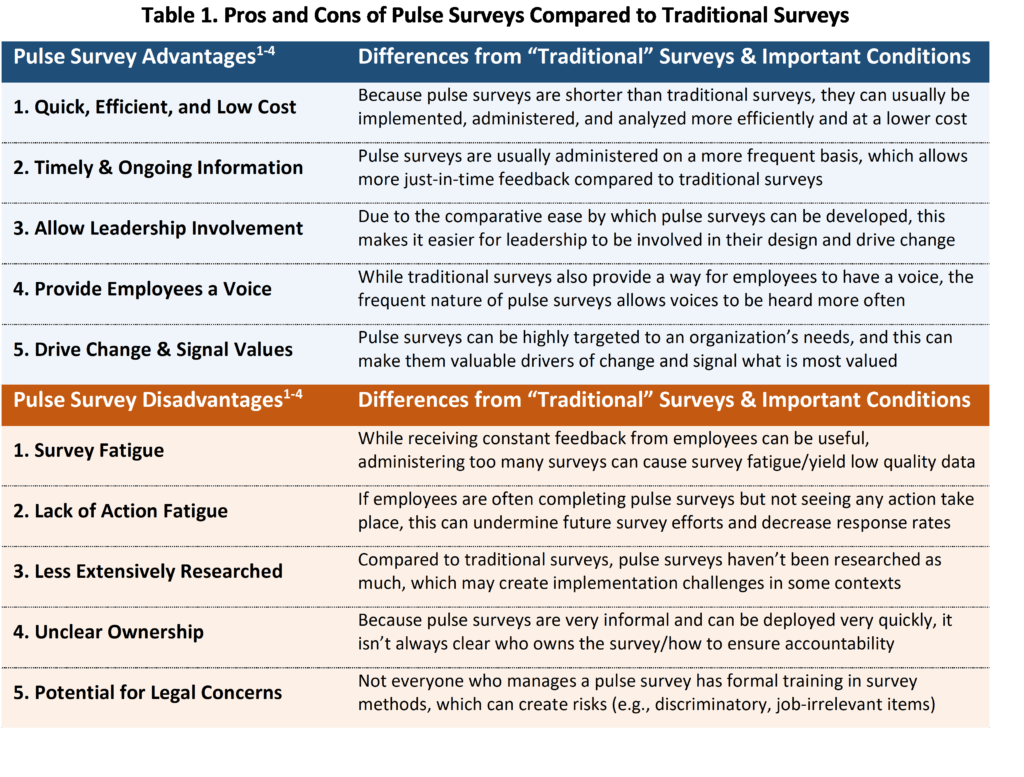 Implementation Considerations & Best Practices
When working to develop and deliver a pulse survey, there are several questions you should ask your stakeholders to ensure the survey is successful. It is important to confirm that everyone has a shared understanding of the logistics and vision for a path forward, from implementation to evaluation and beyond. Some examples of questions to discuss in your initial conversations include:
What is your role in the creation and distribution of this survey? What role should I have?
Are there any channels of review that we should go through before implementation?
What are our most critical research questions?
Where are our opportunities to align this effort to the overarching organizational goals?
How will we engage our target population and inspire them to complete this survey?
While having these conversations, seek opportunities to ask clarifying questions about the organization's strategic priorities to consult them through the process effectively, keeping a clear vision of the desired outcome in mind. In addition, set aside time to speak candidly about the range of potential outcomes to anticipate future steps. While knowing what to do with the data can be hard, research shows failing to act on survey results can be worse than failing to share results at all4, 5 (e.g., response rates in the future can be lower, negative employee attitudes can emerge). With this in mind, consider ways to ensure respondents will feel positive about sharing this data with their organization and mitigate any risk associated with lack of follow-up action.
Managing Resistance
As with any new initiative, it is normal to encounter some roadblocks prior to implementation. One common roadblock for organizations is resistance. Whether resistance is coming externally (e.g., from an outside vendor or stakeholder) or internally (e.g., from a specific department), it is essential to form a positive working relationship with your stakeholders to have honest conversations and develop a strong understanding of their needs and goals. Furthermore, it is important to consider the context of resistance to gain deeper insight into any concerns. For example, are there conflicting pressures from staff and leadership? Active listening and deeper conversations with your stakeholders will enable you to anticipate potential challenges, make helpful recommendations, and propose proactive solutions that acknowledge stakeholder needs and support the success of all involved.
On the other hand, there may be instances when you must work through ambiguity to identify (or decide on) a clear purpose. For example, if leadership would like to conduct a pulse survey to learn about the health and wellness of employees over time, there are a variety of measurable topics that can be explored (e.g., physical health and/or mental health, environmental safety, work/life balance). As noted above, it is best practice to formulate pointed questions to uncover the information needed to obtain useful data for the organization and yield actionable results. Moreover, it is helpful to enter any conversation with the mindset that you want to help the client succeed (i.e., "How can we help employees be successful in their roles?") and always lead with empathy. The bottom line is, you may experience resistance for a reason not immediately clear or known to you, but everyone will benefit from a little added effort and understanding.
Developing Questions
Developing effective questions is key to delivering an effective pulse survey. Minor changes in the sentence structure of a question and/or answer choice can make a significant impact to the benefit or detriment of your data collection, so it is critical to be intentional about language, length, and response-types of the questions asked. When brainstorming the questions you want to ask, consider the five "BEs":
BE SPECIFIC! Use scaled agreement questions over binary (e.g., yes/no) questions to garner more specific feedback. This type of question is also more efficient than open-ended questions.
BE DELIBERATE! Ask what you mean and mean what you ask with one short question at a time. Don't use questions that are two in one (e.g., "How helpful was the interview preparation guide and the level of support from the office staff when you came to interview?")
BE INCLUSIVE! Ensure your response choices capture all ranges of experience. Include an "I don't know" or "Not sure" option. If you limit or exclude participants with any of your questions, they may not complete your survey.
BE DISCERNING! Create an "other" option to collect additional data, but be strategic about where to implement this option.
BE TIMELY! Timing impacts the context of your questions and participant response rate. If you are collecting feedback about a specific activity or event, distribute the survey within 24 hours. If you are measuring the long-term impact of something (e.g., a major organizational change), be intentional about your cadence of survey delivery.
Implementation and Evaluation
During the implementation stage of delivering a pulse survey, good time management and communication are essential. In addition to sharing information early and often to ensure people are aware of the effort, it is also important to communicate the "what's in it for me?" to the target participants and increase their desire to participate. It is also beneficial to consider any other internal or external factors that might influence participation in the pulse survey and set an implementation date that does not conflict with any other major organizational initiatives. Additionally, set realistic expectations about participation. While a 90-100% response rate would be great, 30-50% might be a more realistic expectation (depending on the client and survey population). As the survey window comes to an end, strategic decisions can be made about whether an extension is needed or worthwhile.
Finally, thinking ahead about the evaluation process is vital to achieving the desired result of the pulse survey. Prior to survey completion, discuss how you plan to analyze the results, what deliverables are needed, and how to frame your findings and recommendations most effectively. While presenting results, be mindful of your audience and tell a story that paints a complete picture with the data collected; use specific data points to bolster any recommendations; and acknowledge areas for improvement to strengthen future iterations. Remember: pulse surveys are meant to be part of a continuous process and, similarly, are subject to continuous adaptation and improvement!
Conclusion
In sum, pulse surveys – if designed, implemented, and utilized in ways that are consistent with evidence-based practices – can be a valuable source of workplace data and insight. Do you think pulse surveys are the right choice for you and your organization?
References
Brown, M. I. (2022). Investigating the promise and pitfalls of pulse surveys. Industrial and Organizational Psychology, 15, 137-149.
Jolton, J. A. & Klein, C., (2020). Exploring the universe of pulse surveys and continuous listening opportunities. In Macey, W. H., & Fink, A. A. (Eds.), Employee surveys and sensing (pp. 53-67). Oxford University Press.
Macey, W. H., & Fink, A. A. (Eds.) (2020). Employee surveys and sensing. Oxford University Press.
Allen, J. B., Jain, S., & Church, A. H. (2020). Using a pulse survey approach to drive organizational change. Organizational Development Review, 52, 62-68.
Church, A. H., Golay, L. M., Rotolo, C. T., Tuller, M. D., Shull, A. C., & Desrosiers, E. I. (2012). Without effort there can be no change: Reexamining the impact of survey feedback and action planning on employee attitudes. In A. B. Shani, W. A. Pasmore, and R. W. Woodman (Eds.), Research in organizational change and development, 20, 223–264, Bing­ley, UK, Emerald Group Publishing Limited.
---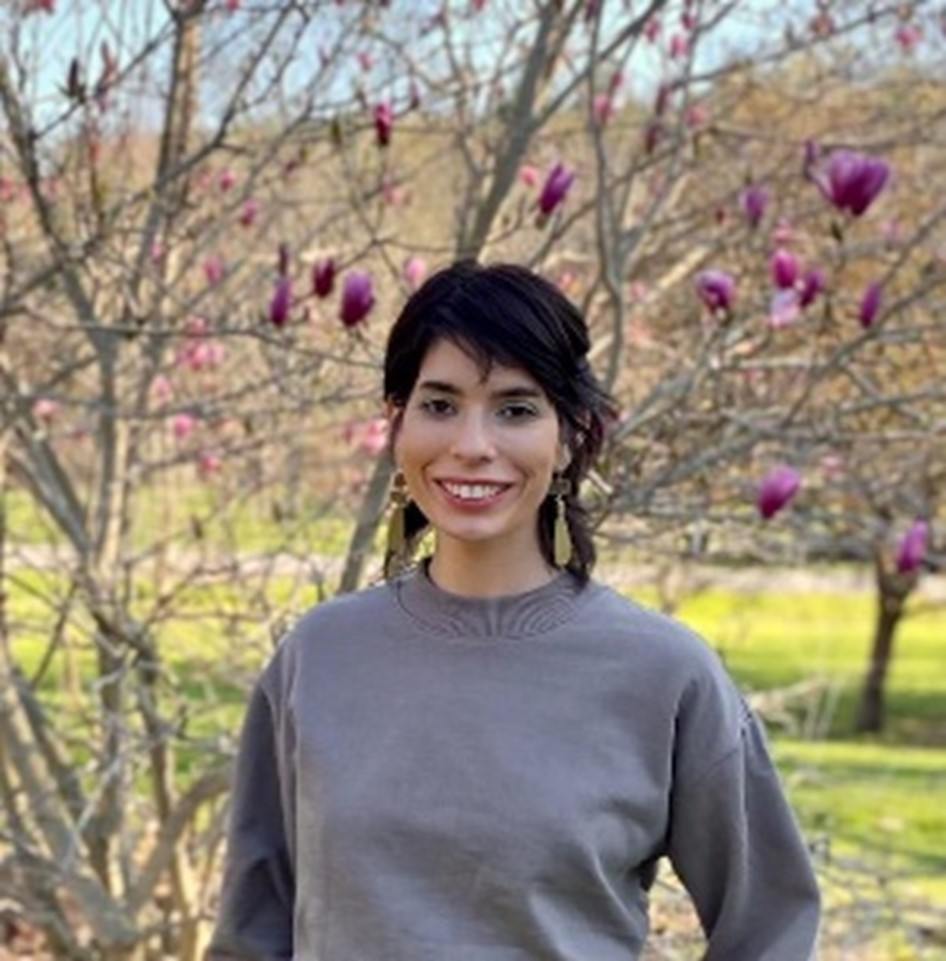 Summer Sconyers is a Human Capital Consultant at FMP. She earned her M.S. in Industrial-Organizational Psychology from the University of Tennessee at Chattanooga. Some of her favorite research areas include organizational change, training and development, employee engagement, and occupational health. In her free time, you will find Summer spending time in nature, listening to music, and volunteering with local animal rescues!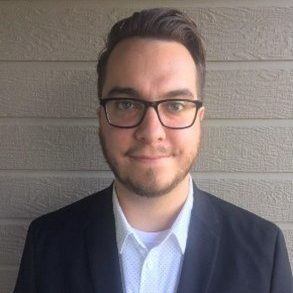 Nathaniel (Nate) Voss is a Senior Human Capital Consultant at FMP Consulting. He received his Ph.D. in Industrial/Organizational Psychology from Kansas State University. Some of his favorite project topics and areas of expertise include competency modeling, data analytics, and survey methods. When he is not nerding out about one of these topics, Nate enjoys eating out at new restaurants and playing games with friends.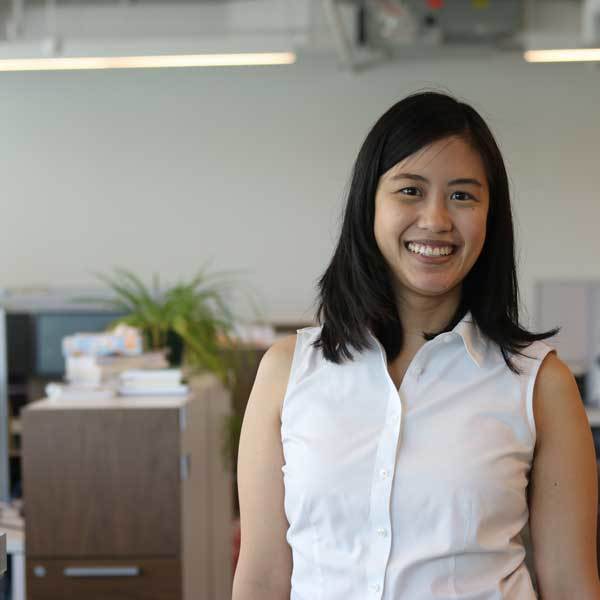 Louise Chan was a Human Capital Consultant at FMP Consulting. When working at FMP, some of her favorite project topics and areas of expertise include change engagement, survey methods, data analytics, and performance management.