Work Perks: Investigating Employee Incentives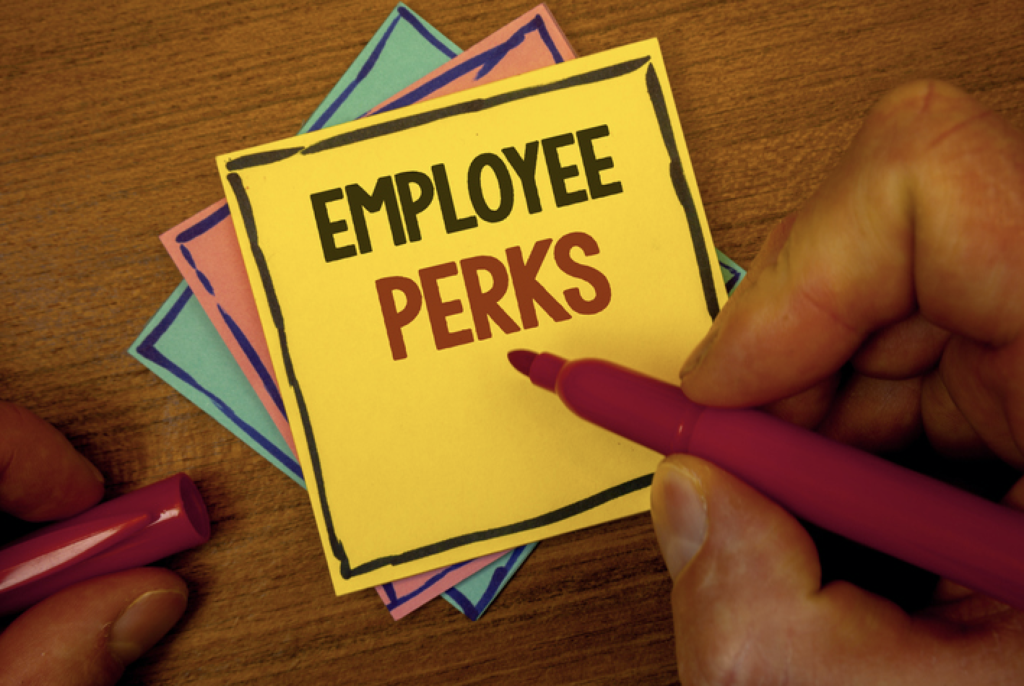 What Are Work Perks?
Since the economic boom in the US following WWII, employers have traditionally offered a selection of employee benefits as a form of indirect compensation. Some of these benefits are required by law (like unemployment insurance or workers compensation), while others have become so commonplace that they are often expected or assumed (think medical insurance, retirement plans, or short- and long-term disability). Organizations can leverage these benefit offerings, along with competitive compensation, to be attractive to job seekers and retain their top talent.
Over the last decade or so, we've seen an uptick in another area of employee benefits: "work perks". These fun employee incentives are specific to the organization and can help current and prospective employees make meaningful distinctions between companies competing for talent. Perks are often indicative of the organization's culture and values, making them great investments for attracting and retaining talent.
Why Offer Perks?
It's no secret that hiring a highly skilled, dedicated workforce is key to creating and maintaining a strong foundation for your organization. Tangible benefits like workplace perks help differentiate organizations and demonstrate a company's commitment to investing in that workforce. This can be a big draw for the skilled job-seeker; while perks and benefits shouldn't be the only reason an applicant chooses to accept a job offer, they are undoubtedly a crucial part of the big picture.
Many companies are using perks to help employees maintain a good work-life balance, acting as retention tools based upon support and flexibility. Offerings like fitness classes, subsidized volunteer days, or the ability to work from home have been known to increase job satisfaction and morale. At the same time, if your organization requires that employees spend long, focused hours in the office, perks in the form of services might be a better fit. CNN is a 24/7 news operation, which is why their Atlanta headquarters boasts a dry cleaner, a post office, and even a doctor's office for their employees to use on-site.
In addition to providing such sought-after convenience, perks can raise morale, boost engagement, and foster a sense of workplace well-being, which helps reduce unwanted turnover. It's no secret that it's more cost-effective to keep good talent than to recruit and hire someone new, so investing in your employees' happiness is a good decision for the business's bottom line.
Picking the Right Perks for Your Organization
There are a LOT of possibilities when it comes to deciding which perks and benefits to offer your workforce. As much as you may want to offer employees everything, it's probably not feasible (and may be less meaningful than if you provided the select few that mean the most to your people). Perks come at a cost, and while the benefits can be numerous, it's prudent for an organization to pick and choose based upon budget, feasibility, and corporate culture. For example, Google offers three free full meals a day to their employees. This poses a huge benefit to employees who spend a lot of time on-site. But, if your workforce is largely remote, offering something like this wouldn't be cost effective and would result in a lot of wasted food. In another example, PetSmart encourages employees to bring their dogs to work each day; depending on the rules regulating your office space (or employees' allergies), this might be an impossible proposition. Some companies are now offering fully-paid, unlimited vacation days. This sounds delightful, but if the company culture discourages taking time off or the nature of an employee's work makes it difficult to do so, a benefit like this might go unused and even become a bone of contention among employees. It's important to take stock of what your organization can realistically do and what your employees will actually be able to use.
Budget can be the biggest barrier to providing work perks. Here are some low-cost ideas your organization might consider:
1. Paid Volunteer Time – Give your employees the opportunity to give back with subsidized community service hours.
2. Swap Desks – Let your employees switch up desk arrangements for dynamic and collaborative work environments.
3. Add Some Plants – Brighten up your office with indoor plants and flowers. Greenery brings life into your workspace!
4. Celebrations – Recognize employee birthdays, weddings, and other life events; give your team a chance to take a little break to celebrate occasions together and create a stronger sense of community.
5. Employee Discounts – Does your organization make a consumer product or provide a service? Give your employees a discount! Is your office located in an area with other retailers? See if they're willing to offer your employees a neighbor discount or special promotion.
6. Fantasy Sports Leagues – Engage your employees in a little healthy competition!
7. Recognition Boards – Devote a whiteboard to showing your team that their accomplishments do not go unnoticed.
8. Mid-Day Fitness Breaks –Take a walk around the building as a team or do a group stretch. Encourage employees to take 'walking meetings' when they don't need to be in front of their computers.
9. Early Fridays – A perennial employee favorite: reward your employees with a half-day Friday every once in a while as an unexpected treat (or as part of a 'summer hours' schedule).
Curious about other ways to perk up your office or company culture? We'd love to hear from you at bd@fmpconsulting.com!